Apex Legends: Redditors Suggest Army-Like Rescue for Downed Teammates
Published 12/05/2020, 6:30 AM EST
---
---
Apex Legends has been a top-tier 'Battle Royale' game since its release back in 2019, maintaining the same stature through several seasons, by introducing amazing content and events to the game. It soon became the perfect game that captured the true essence of 'Battle Royale' as a genre. However, there are fan suggestions on Reddit, which are so good that Respawn should definitely consider them.
ADVERTISEMENT
Article continues below this ad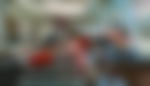 Redditors have something really interesting for Developers of Apex Legends
ADVERTISEMENT
Article continues below this ad
In a subreddit thread, a fan shared a rather interesting post, regarding a mechanic to interact with a downed teammate uniquely. He suggested they should allow players to pull or drag teammates to a safer location, like the way it is in the trailer. It would be a helpful addition to the game, as many times being knocked out in the open would just end the game for an entire team.
This could work really well with characters like Caustic, Watson, Banglore, Gibraltar, Wraith, and Lifeline, as these characters either possess a movement ability or a defensive one which could work really well with their other innate abilities. Dragging a downed teammate into the portal or the Gibbi's dome would be a very exciting addition to the game.
ADVERTISEMENT
Article continues below this ad
It can work as passive for a new Legend
Keeping it as a universal skill could break the balance of certain characters. But what if it just served as a passive talent? No legend in the game actually needs another passive talent because that would be too over-powered. So instead, if Respawn does not believe in adding it into the game, it could just add it as a passive in the future for a new legend.
ADVERTISEMENT
Article continues below this ad