Apex Legends Season 9: Havoc Might Be the Strongest LMG in the Game
Published 05/16/2021, 10:57 AM EDT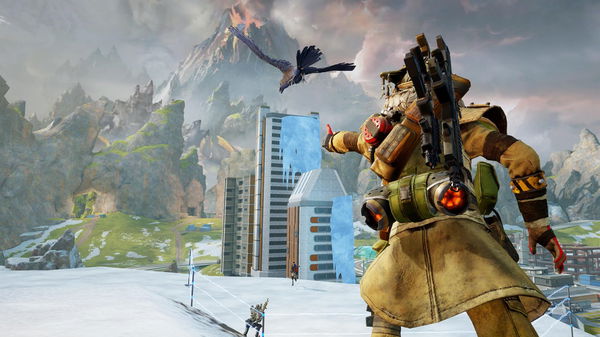 ---
---
Season 9 for Apex Legends has been one of the better seasons in a long while. The addition of the new Arena mode has definitely breathed new life into the game. Long-time veterans and new players can definitely train their aim in this compact action-packed mode. This also allows newer players to get used to the combat mechanics, and practice how to use every legend.
ADVERTISEMENT
Article continues below this ad
Undoubtedly, it also helps everyone train their aim and get used to various weapons. Minor tweaks and changes to the roster of weapons have uncovered Havoc as the strongest LMG in this meta.
ADVERTISEMENT
Article continues below this ad

Why is Havoc so strong in Season 9 of Apex Legends?
There have been only a couple of names in the LMG category that have dominated the meta. They include the fan-favorite Spitfire and Devotion. However, minor changes within the patch note of Season 9 have turned Havoc into a whole other monster. This unpopular energy weapon has received a minor buff, which allows it to become extremely accurate with reduced recoil.
The developers felt strongly about this weapon's feasibility, as it already has one of the lowest headshot multipliers. Paired with an insane recoil and respectable damage, Havoc needed help. This is where the developers may have turned the weapon into a beast in its own regard.
Respawn adjusted its recoil controllability and made it stable early in the pattern. The studio even left a small note to explain why the team made this change.
"This should help make up for the reduced headshot multiplier and make it a bit more usable in mid-range fights."
Safe to say, Havoc is back, and it is now being picked up by veterans and new players alike. The stability upgrade and powerful rate of fire have definitely made it great in close to mid ranges.
ADVERTISEMENT
Article continues below this ad
video source: CrazyRachet
The aforementioned video showcases the new improved Havoc in all its glory. You can beam people down to zero health in close ranges and there isn't an LMG with such firepower. It does not hit a mean punch like Spitfire, but the consistent and constant damage output is more than enough to decimate anybody.
ADVERTISEMENT
Article continues below this ad