Battlefield 2042 Joins an Unwanted Club by Becoming the Eighth Worst Reviewed Game Ever on Steam
Published 11/21/2021, 11:25 AM EST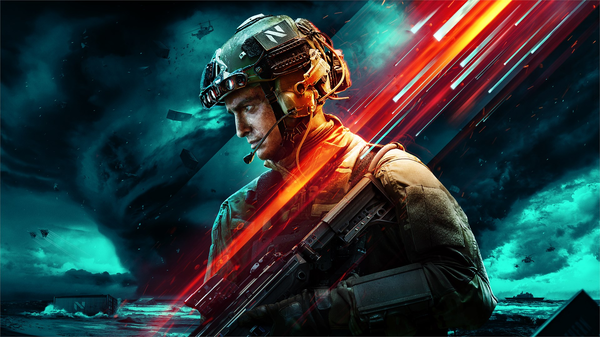 ---
---
Battlefield 2042 was expected to meet a lot many expectations when it released. It was one of the most anticipated games of 2021, and the hype behind it was unbelievable.
ADVERTISEMENT
Article continues below this ad
However, ever since the release of its beta version, the game was found not to be all that it was hoped to be, as players were getting constantly frustrated with the game's problems.
As a result, Battlefield 2042 has to now unfortunately join the club of the worst-rated games, with over 31,000 reviews being mostly negative.
ADVERTISEMENT
Article continues below this ad
Battlefield 2042, unfortunately, becomes one of the worst-rated games in Steam's History
Battlefield 2042 has unwantedly joined the club of worst-rated games along with Konami's e-Football 2022. Many players had expressed their interest in canceling their pre-orders while encountering the plethora of bugs and glitches that were plaguing the beta release.
Forbes has compiled a list of the worst-rated games and Battlefield comes in at number 8 on that list.
Have a look at the worst-rated games along with their ratings.
eFootball 2022 – 1.25
Flatout 3: Chaos and Destruction – 1.55
Uriel's Chasm – 1. 73
Kinetic Void – 1.83
Spacebase DF-9 – 1.86
Identity – 2.17
GASP – 2.26
Battlefield 2042 – 2.33
RollerCoaster Tycoon World – 2.46
Godus – 2.53
Many reviews on Steam stated that this is an unacceptable launch for a triple-A title. In its first week, Battlefield 2042 has been an absolute disaster, with constant glitches and bugs plaguing the game.
WATCH THIS STORY –  Video Game Franchises returning to console
ADVERTISEMENT
Article continues below this ad
EA DICE promised to announce a day one patch for the game after the release, which would fix some lingering issues in the game. The rubber-banding issue, which was ruining the All-Out-Warfare mode, has also been fixed in this update 0.2.1. And some players think that BF2042 will offer a more stable experience in its full launch.
A lot of this criticism can be owed to the massive amount of features that were essential to all the games in the Battlefield franchise being taken out of Battlefield 2042. Players have been quite angry with the missing features.
Hopefully, as time goes on, things will get better, and the game will finally be all that it was hyped up to be.
ADVERTISEMENT
Article continues below this ad