Battlefield 2042: Twitter Reacts to the Game's Exhilarating Reveal as Call of Duty: Warzone Meets Its Match
Published 06/09/2021, 12:28 PM EDT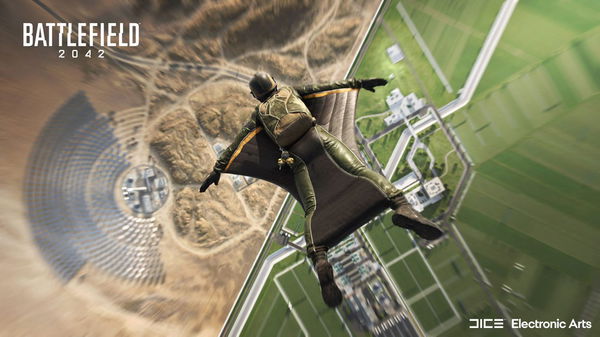 ---
---
Electronic Arts has lived up to its promise as the studio organized a live stream of Battlefield 2042. This iteration of the game is set in a futuristic timeline, where mecha dogs, tanks, attack helicopters, and elaborate snowmobiles roam the game. Furthermore, every Battle Royale mode has a circle, which closes in every few minutes. This paves the way for the game to progress and compels everyone to move deeper into the map-making room for more actions.
ADVERTISEMENT
Article continues below this ad
Similarly, Battlefield has taken the route of an elaborate storm, which will close in every time the round closes. This will ensure the Battle Royale will progress naturally and it seems like the storm also affects vehicles, judging by the trailers.
ADVERTISEMENT
Article continues below this ad
video source: Battlefield
Twitter Reacts to Battlefield 2042 reveal
This has been a piece of groundbreaking news for the gamers world over, as the quintessential FPS franchise has finally returned in 2021. Naturally, this epic trailer revelation was going to attract reactions from famous streamers and fans alike.
100Thieves' content creator Noahj456 shared his thoughts about the trailer reveal. The streamer fell in love with the aircraft and aerial combat sequence, which showcased unbelievable play that only hardcore gamers can pull off.
The dog seemed friendly and everything, but can the community pet it?
The remarkable aerial sequence continues to astonish the fans. It portrayed a key aspect of the game that the fans would love to emulate when the game releases.
Warzone has found a tough competitor in Battlefield 2042, as the trailer surreal gameplay and top-notch visuals.
Mark the date on your calendar, as Battlefield prepares to launch in the third week of October.
Trickshots are the norm of FPS games and this sequence will probably go down in the history as the greatest trailer ever.
Leaks from within the community suggest Battlefield 2042 won't have a campaign mode. EA has fully embraced the multiplayer aspect of the franchise as the studio has removed it completely from the upcoming title.
#BATTLEFIELD2042 drops Oct. 22

• No campaign mode

• 7 huge maps

• 128 players on PS5, XSX, PC

• 64 players on PS4, XBO

• Dynamic events: Destructive tornadoes, visibility-altering sandstorms, enhanced terrain deformation pic.twitter.com/oms6qnWKD3

— Fandom (@getFANDOM) June 9, 2021
EA vs Activision's long-staying battle won't die out, as fans turn their rivalry into elaborate memes.
The future of gaming is here, and Battlefield has set the center stage for futuristic warfare in its truest potential.
ADVERTISEMENT
Article continues below this ad
The community has to wait for few more days, as EA has promised to unveil the gameplay trailer in the upcoming E3 event.
ADVERTISEMENT
Article continues below this ad
Battlefield has finally put itself in a great position, as Electronic Arts prepare to take over 2021. This title is going to put Call of Duty in a difficult position, as the community could switch over to Battlefield.
Watch this story: Best MMORPG Games Coming in 2021
Trending Stories