"Best Game of the Year?"-Playstation Makes a Bold Prediction About Doom Eternal
Published 04/06/2020, 2:45 PM EDT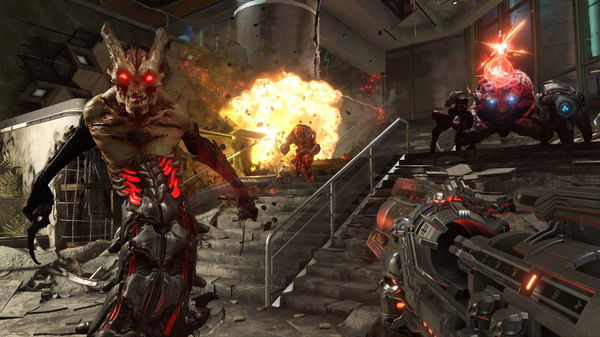 ---
---
For the uninitiated, Doom Eternal is the brainchild of Id Software and Bethesda Softworks. The video game is a sequel to 2016's Doom reboot of the 90s classic. In the latest instalment of the franchise, the story is not the main emphasis, but the in-game action more than makes up for it.
ADVERTISEMENT
Article continues below this ad
Admittedly, the game favours a fast paced and aggressive style of play, where characters dive headfirst into combat. Apparently, this is the best way to stay away from Death's embrace for as long as possible. Once gamers have this tip branded in their minds, Doom Eternal will become one of the most enjoyable action games of this generation.
ADVERTISEMENT
Article continues below this ad
How Doom Eternal Became a Phenomenon
ADVERTISEMENT
Article continues below this ad
During the conceptualisation process, Doom Eternal incorporated elements from Quake III: Arena. Proving this point is the campaign encounters, while resemble old-school multiplayer matches. Players can liberally use bounce pads and travel through gothic passageways while battling against hordes of gibbering ghouls.
In terms of the weaponry, the Plasma Rifle is one of the best arms in the game. The killing machine can be particularly deadly once it is upgraded with a secondary attack to vent superheated gas at nearby enemies, shotgun-style. There is also a Weapon Mastery that boosts primary attack for a few seconds.
Other devastating weapons include the Rocket Launcher, Super Shotgun, and Chaingun. Most of them come with a focused skill tree that branches into different playstyles depending on the upgrades. This design adds depth and an experimental quality to the combat. The game encourages you to play again and again to try all the offensive options – and you will.
ADVERTISEMENT
Article continues below this ad
The best part is that Doom Eternal allows players to swap difficulty levels on the fly. So the less-skilled players do not feel like rookies. Besides, there is no shame in dropping the difficulty a notch or two in order to sneak past a particularly tough battle. This is especially important, since the game boasts of some unforgiving boss encounters.
All in all, Doom Eternal is a masterpiece of mechanical mayhem, and a fantastic sequel to 2016's Doom.
Trending Stories