BTS Star Tae-Hyung A.K.A. V Once Professed His Love for Hazelight Studios' It Takes Two
Published 02/18/2022, 12:15 PM EST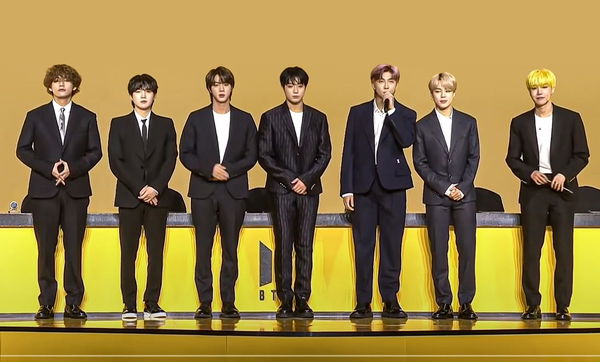 No matter what, everyone does love gaming- even the members of the BTS! Gaming has engulfed the whole world as a crazy phenomenon and everyone enjoys casual gaming, at least to a slight extent. In a recent episode of the Web's Searched Questions, BTS answers some of the most asked questions by the fans, and in this segment, Taehyung (also known as V) has shared some insights about his favorite games. Have a look at the video below.
BTS member Taehyung shares exclusive insight about his favorite video game
ADVERTISEMENT
Article continues below this ad
The BTS fans might have always wondered about what video games their favorite members like. It seems like the Bangtan Boys are indeed fans of gaming and have finally revealed the games that they love to play.
In the above video, Taehyung who is also known as V, answers one of the questions which asks, "Does BTS play games". Answering this question, V says, 'These days I really like video games. There's a game called It Takes Two'". 
For those who are not aware, It Takes Two is an action-adventure game developed by Hazelight Studios and Electronic Arts. This game is available for PC, PlayStation 4, PlayStation 5, Xbox One, and Xbox Series X|S and was released in March 2021. It is developed primarily for split-screen cooperative multiplayer, which means it must be played with another person via either local or internet play.
ADVERTISEMENT
Article continues below this ad
The game incorporates a wide range of game mechanics from numerous video game genres. These gaming features are linked to the level's plot and concept. On one level, for example, Cody obtains the power to reverse time, whilst May can duplicate herself. In order to proceed, players must work together and use their powers. The game also includes a plethora of mini-games.
It Takes Two garnered mostly positive reviews from critics and earned many year-end awards, including Game of the Year at The Game Awards 2021. The game was a financial success, with over 5 million copies sold by February 2022. The game garnered more than 1 million copies in sales in just the first month of its release. Over 2 million copies have been sold by June 17, 2021. 3 million copies were sold by October 2021. 5 million copies were sold by February 2022.
ADVERTISEMENT
Article continues below this ad
WATCH THIS STORY –  THE HIGHEST SELLING NINTENDO GAMES OF 2021
What do you think of Taehyung's favorite game? Let us know in the comments.