Call of Duty Warzone: Aydan With Atlanta FaZe Duo Reign Supreme in Twitch Rivals Tourney
Published 03/27/2020, 12:04 PM EDT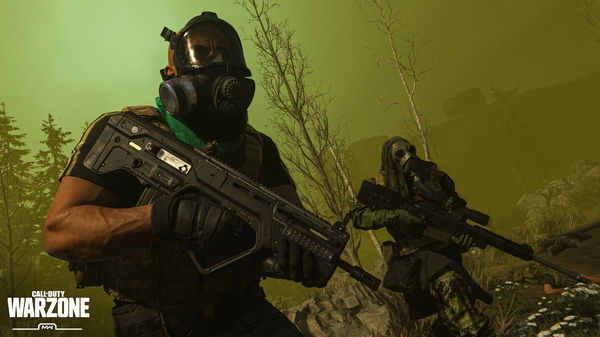 ---
---
Twitch Rivals which organized Call of Duty Warzone 2-day tournament is now over. Day 2 witnessed Team Aydan brilliant tactics coming to the top. This team which consists of Aydan, Priestahh, and Abezy won the $7800 during the two days. Priestahh and Abezy are the pros and also the part of Atlanta FaZe. Notably, the prize money which they have won does not consist of bonus money which they grabbed in the past 2 days.
ADVERTISEMENT
Article continues below this ad
The competition incorporated total of $100,000 prize pool. Among this $39,000/day was included in Public Matchmaking and $11,000/day was in Bonuses. First place on both days acquired $6,000, second place $4,200 and third place took home $3,600.
The first day of the tournament on March 25th consisted of solos match while the trios took place on March 26.
ADVERTISEMENT
Article continues below this ad
Second, to the Team Aydan in trios was Team TeePee who scored 367 points in the game. Team Mendokusaii with 337 points stands third in the final standings.
Solos in Twitch Rivals Call of Duty Warzone
ADVERTISEMENT
Article continues below this ad
On the first day of Twitch Rivals, the competition was solo based. These solo matches saw Team DrDisrespect reigning supreme, with whooping 211 points in five games. Notably, Team ImMarksman also ended with 211 points, but Im' achieved a lower 'Best Game' points tally (46 in contrast to Disrespects' 48), that's why they had to settle for second. The third position was grabbed by Team TeePee with 193 points.
In overall rankings, Team Aydan again proved their supremacy thanks to the first and eight finish in trios and solos respectively. Team TeePee claimed the second position, while third place went to Team DrDisrespect.
Twitch Rivals were quick to form this competition for popular streamers and pros. Considering that Warzone was launched on 10th March.
ADVERTISEMENT
Article continues below this ad
A great thing about Twitch Rivals is that it let all of the participants to stream their matches. This feature gives viewers the various options to choose from. If they want to see the game from the point of view of their favorite streamers, they can do that or if they just want to see highlights of all participating in the competition, then they could just go to the main channel of the Twitch Rivals.
Trending Stories