Call of Duty: Warzone Season 4- Weapons with the Fastest TTK in the Game
Published 07/06/2021, 1:33 PM EDT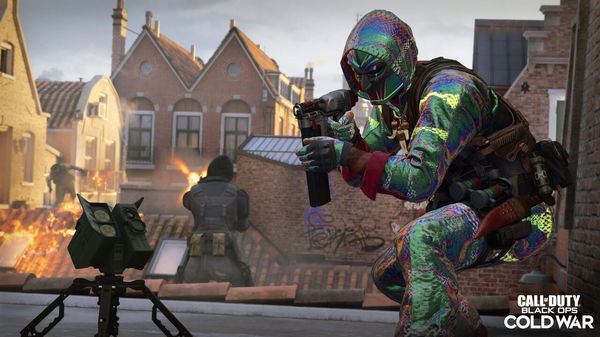 ---
---
Being successful in a fast-paced battle royale like Call of Duty Warzone requires a combination of immense skill and tactics. While only practice will improve your skill, you can learn more about the 'meta' of the game to give you the best chance at winning. The firing rate and time to kill a gun are some of the most crucial elements.
ADVERTISEMENT
Article continues below this ad
Here are the fastest-killing guns in Call of Duty Season 4
Call of Duty Modern Warfare PKM
ADVERTISEMENT
Article continues below this ad
One of the most usable LMG's in the game, the PKM boasts an insane firing rate in both close quarters and ranged fights. When paired with the monolithic suppressor, an extended barrel, and snatch grip underbarrel, it can shred opponents in seconds.
Black Ops Cold War Stoner 63
Sticking with the LMG class, the Stoner 63 is a powerhouse in Warzone. Over long ranges, it showcases a 0.5 second kill time which is very impressive. Furthermore, LMG's in this game are far easier to control compared to other guns in the game. Thus, it is one of the fastest killing guns in Warzone today.
Nail Gun
The nail gun is one of the new weapons Raven Software introduced into Warzone with Season 4. Although this gun faces the problem of extreme bullet drop at long ranges, it is a perfect counter to shotguns at close range. Its time to kill is an astonishing 0.4 seconds.
ADVERTISEMENT
Article continues below this ad
AS VAL
With a time to kill of under 0.5 seconds under a distance of 30 meters, the AS VAL is one of the most powerful guns in Warzone. Although it has a slow fire rate and low ammunition capacity it makes up for its high damage stats. When paired with the Valk 200mm barrel, tac laser, and VLK stock, it becomes close to unstoppable.
Raven Software changes up weapon stats and introduces new weapons into the game with almost every major update. As a result, there are always a new set of 'meta' weapons. What are some of the fastest killing guns you have used in Warzone? Let us know in the comments down below.
ADVERTISEMENT
Article continues below this ad