Call of Duty: Warzone Hackers Go Above and Beyond to Get Unreleased Halloween Skins
Published 10/11/2021, 5:17 PM EDT

Follow Us
Spooky season is here! The Haunting Halloween Event is almost here and players are extremely excited about it. However, Warzone hackers are trying extremely hard to get unreleased Halloween skins. Some of them have already managed to get their hands on the much-awaited unreleased spooky costumes, much to the annoyance of other players. Hackers being able to get their hands on such hyped-up unreleased costumes is truly a serious matter for Raven.
The new Halloween Warzone event is on the way
This spooky season, Ghostface (Scream movie), and Donnie Darko's Frank are all set to arrive in the battle royal on 9 October 2021, but some clever hackers are ruining the whole excitement by already using the skin on the streets of Vendansk. Both the skins are probably one of the most hyped and visually distinctive skin we have ever seen.
ADVERTISEMENT
Article continues below this ad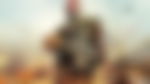 Hackers are creating a lot of issues for regular players in Call of Duty for a while now despite all the efforts of Raven to eliminate all the cheaters from the game. This latest wave of hackers and cheaters is unfair to all the normal players who have to pay for the spooky costumes from their hard-earned COD points. The limited-edition costumes are expected to cost around 1600-2400COD points.
WATCH THIS STORY:  Top-Selling PlayStation, Xbox, and Nintendo Consoles of All Time
Some eagle-eyed Reddit users have already spotted, but one hacker was able to get the Frank skin. Another Reddit user, Chillenge was able to spot a skeleton outfit with blue flames. The blue fiery skeleton does not have any reveal date yet, but still, some players think that it looks too sick and weird.
ADVERTISEMENT
Article continues below this ad
Well finally, a brand new Halloween event is on the way to that. It includes a range of all spooky spine-chilling challenges modes for players. The modes will be for a limited period of time.
Are you excited about the Warzone Halloween event? Also, do you think hackers and cheaters are ruining all the excitement and fun of the game? Let us know in the comments section.
ADVERTISEMENT
Article continues below this ad