Call of Duty Warzone: Here's How the Season 3 Trailer Ties into the Storyline
Published 04/26/2021, 10:52 AM EDT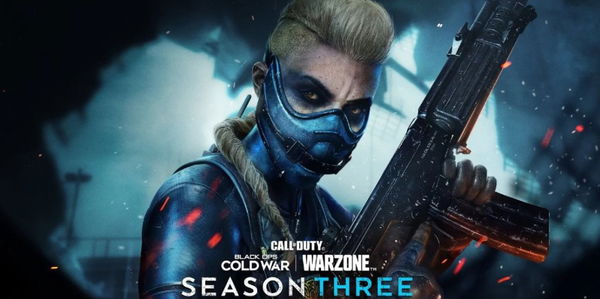 ---
---
Call of Duty's Battle Royale, called Warzone, recently received its Season 3 update. The new season bought new operators, guns, and game-mode variations to the game. Furthermore, the season reveals trailer essentially ties the world of Warzone and Black Ops Cold War together.
ADVERTISEMENT
Article continues below this ad
Back in Season 1 of Warzone, we were introduced to Stitch. He is a very highly ranked Perseus agent and Adler's main rival. Their disdain for each other began when Adler captured and tortured Stitch on Rebirth Island. Consequently, at the end of the season, Stitch captures Adler after eliminating his team using Nova 6 gas.
In Season Two, the operator Woods and his crew head to Laos in search of Adler. While they find clues revealing that Adler had been here, there are no further traces of him. Meanwhile, Stitch appoints the operator Naga to ensure the successful transportation of Adler to Verdansk.
ADVERTISEMENT
Article continues below this ad
How does the new Warzone Season 3 trailer tie into the story?
The new Season 3 reveal trailer ties this entire feud into the present happenings in Black Ops Cold War. In the video, we see the latest operators Wraith and Knight make their way to Mount Yamantau. After teaming up to defeat the guarding soldiers, they enter a facility where they steal some reels of film.
Back in Call of Duty Black Ops 1, we visited the same mountain in a mission called 'WMD'. This area was believed to be a doomsday bunker where the Soviets were creating the Nova 6 gas. However, this just ended up being a ruse to hide the gas being produced on Rebirth Island. We hear a similar story in the trailer.
ADVERTISEMENT
Article continues below this ad
Stitch orders Wraith to complete her mission and destroy the mountain. His intention is to distract the U.S.A. and Russia by keeping them at war with each other.
If you look closely enough at the film reels stolen, you will see the name, Dragovich. This refers to Nikita Dragovich who performed an experiment on Alex Mason, leaving numbers stuck in his head. Based on the end of the trailer, Stitch wishes to use this brainwashing technology on the entire world in order to enact his plan.
How do you think Season 3 of Warzone will play out? Let us know in the comments down below.
ADVERTISEMENT
Article continues below this ad

Trending Stories