Call of Duty Warzone Season 3 Sees the Return of Infamous Gas Mask Bug
Published 05/12/2021, 2:03 PM CDT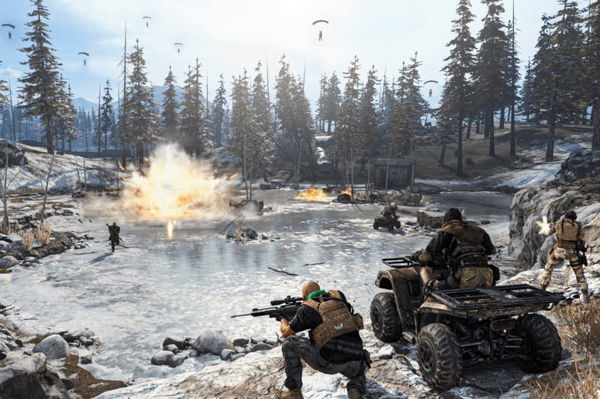 ---
---
The bug problem of Call of Duty Warzone continues to create issues for the title. Ever since the Battle Royale game released, these issues have consistently popped up. No matter how many times the studio rolled out hotfixes, things remained the same.
ADVERTISEMENT
Article continues below this ad
Raven Software and Activision have certainly invested a lot of time in patching up the game. Despite the best efforts, it does not reflect in the end result as the community continues to report their return.
ADVERTISEMENT
Article continues below this ad Call of Duty Warzone continues to get haunted by returning bugs
What should have been a masterpiece project with bug-free gameplay, has become a bit of a meme. The community has seen the return of various infamous bugs like the Gas Mask bug, Infinite flash, Invisible players, and so on. It looks like the changes to the way Nox Gas works in the game have found a complete resolution to infinite stim.
Players can no longer heal themselves for more than 40 seconds, as it will kill anyone outright. However, the community has reported the return of another infamous bug with the Gas Mask, and it is indeed causing several issues. Reddit user u/kobosil41  shared a short clip, where he spectated an enemy abusing the glitch.
It allows anyone to equip a gas mask for infinite duration, and it makes them invulnerable to Nox gas. This enables the players to abuse the bug by camping outside the play zone.
ADVERTISEMENT
Article continues below this ad
Naturally, this leaves the last surviving team lonesome in the last circle. This circle closes in until it completely takes over the entire map, which roughly makes it easy for Gas mask abusers to win. These miscreants can even snipe other players from outside the circle, which downplays the advantage of keeping up with the zone.
Activision needs to come up with a necessary patch to remove this glitch out of the game. It is quite surprising to see these already known bugs constantly make a return in the game.
ADVERTISEMENT
Article continues below this ad