Call of Duty Warzone: These 5 SMG Classes Will Shred Through Your Opponents
Published 05/03/2021, 12:27 PM EDT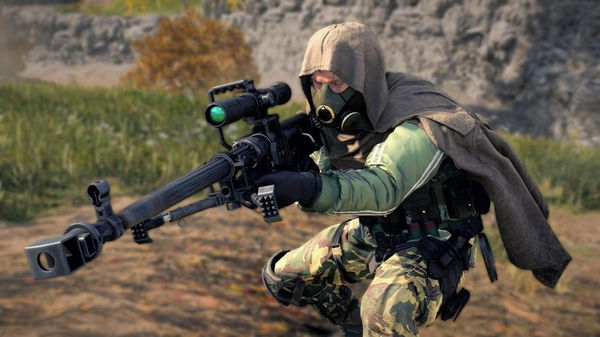 ---
---
Warzone is Call of Duty's take on the battle royale experience. Over the course of its first year, the game has seen massive variations in its meta. Currently, submachine guns seem to be the most overpowered class of weapons when equipped with the correct attachments. That being said, here are the 5 best SMG setups in Warzone today.
ADVERTISEMENT
Article continues below this ad
Cold War MP5
When it comes to close-range battles, the MP5 will usually come out on top. The gun has an insane fire rate, along with respectable damage stats. Furthermore, when paired with a good assault rifle, this gun can wreak havoc. Its major shortcoming is its immense recoil due to the high fire rate. Players will have to learn to control this before they can run through opponents with this setup.
ADVERTISEMENT
Article continues below this ad
For the ultimate run and gun experience, attach the Tiger Team Spotlight, Raider Stock, Field Agent Grip, and the Agency Suppressor.
Modern Warfare MP5
The major difference between this gun and its previously mentioned version is in terms of functionality. While the Cold War variant hits harder and does more damage, the Modern Warfare MP5 offers greater mobility. Although this gun can be used in combination with a sniper, its range lets it down.
This weapon becomes even more deadly when the following attachments are added: Monolithic Integral Suppressor, Merc Foregrip, Stippled Grip Tape, and 45 round mags.
LC-10
As a result of the Season 3 update which increased the bullet velocity of the LC-10, this gun has become a much more viable option in its class. It is often preferred to guns like the Bullfrog due to the additional range it offers. However, up close, it comes up short against many others in the class.
When merged with the Agency suppressor, Raider Stock, Field Agent Grip, and 45 round magazines, this gun becomes virtually unstoppable.
MAC 10
Although the Season 3 update nerfed this gun, when paired with the correct attachments, it is one of the most mobile weapons. Its ability to deal close range damage combined with its rapid-fire rate will ensure that you pose a threat to enemies at close range. Attachments like the Tiger Team Spotlight, Raider Stock, Striker Grip, and Stanag 53 drum serve to make this one of the fastest setups in Warzone.
Bullfrog
Last but certainly not least is the Bullfrog. This gun is primarily known for the high damage stats it offers for its class. However, it does not have the same range as the LC-10, so the choice between the two comes down to player preference.
ADVERTISEMENT
Article continues below this ad
Attachments to be added include:
GRU Suppressor
GRU 5mw laser sight
Bruiser Grip
No Stock
These were our top five SMG setups in Warzone. Which are your favorite SMGs in Warzone since the season 3 update? Let us know in the comments below.
ADVERTISEMENT
Article continues below this ad