"Can't Believe Dr Midspect Is Criticizing Gaming While Launching This Shit" – DrDisrespect Faces Massive Backlash From Fans Following New Game Release
Published 03/18/2023, 12:50 PM EDT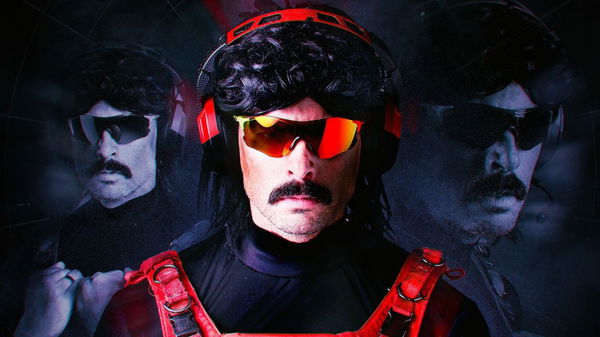 Herschel "DrDisrespect" Beahm IV recently joined hands with OpTic Games to reveal the updates for his FPS title Deadrop at the Esports Stadium Arlington in Texas. A huge crowd visited the venue to witness the new update called Snapshot V. Further, a lot of fans were also watching the event via livestream on the Midnight Society YouTube channel.
The 41-year-old is an avid fan of video games, especially online multiplayer first-person shooters. He has livestreamed almost every famous FPS game like PUBG, Call of Duty titles, and even Fortnite. However, the latest games were unable to impress Beahm. So left with no other choice, he started Midnight Society, a game development company, to create an excellent AAA-standard FPS game.
His company is already working on a title called Deadrop, which is not officially released yet. But fans can try their hands on it by buying early access to the game. So those who have the game can also try the new Snapshot V update. However, this latest update saw some mixed reactions from the audience, and a lot of them are going towards the negative side of the scale.
ADVERTISEMENT
Article continues below this ad
Fans criticized DrDisrespect's Deadrop after the new update
After the release of the latest update for Deadrop from Doc, it saw a mixed reaction from the audience. A lot of them were criticizing the game, claiming it is nowhere near the standards that the "Two-time" promised them on the stream. Many fans who saw the gameplay after the update claimed Indie game titles are doing much better these days than Doc's game.
Damn I've seen indie games do miles better than this game.

Can't believe Dr Midspect is criticizing gaming while launching this shit.

— Ramses 👊 (@Ramses3099) March 18, 2023
One fan even claimed that Call of Duty's parody games on Roblox servers are even better than this FPS shooter. It wasn't the end of criticism. Fans also pointed out why DrDisrespect and his team talked about the battle pass and cosmetics when the base game isn't completed yet. Undoubtedly, the 41-year-old streamer would have never expected to get such a backslash from the audience.
That Cod game in Roblox looks better than this 💀

— Bam (@INeeeedAHerroo) March 18, 2023
Roblox COD looks better than this

— RaynRaps⛈ (@RaynRaps) March 18, 2023
I dont even know what this game is and they already promoting a battle pass lmao.

— Jimblob (@jamespr78894715) March 18, 2023
Ngl, This game looks so unfinished and they're already talking about battle passes and cosmetics? Yeah the game isn't looking too good.

— Sheharyar Ahmad (@Shadow2841) March 18, 2023
While a majority of fans were busy taking digs at the game, there was a small section of fans who were beside DrDisrespect. They reasoned with those against the game that it's still in the development stage. Meaning this game still has a lot of potential, and the final product can be mind-blowing.
Can't wait play it deaddrop look great everyone made real game

— Willie Robert Deerman (@DeermanWillie) March 18, 2023
This game is about to disrupt the FPS video game industry ⛽️

— Droppelbanger (@droppelbanger) March 18, 2023
ADVERTISEMENT
Article continues below this ad
This is beyond pre-alpha right now. Dude you're acting like they're saying this game is ready to ship next month lmao. Hate to tell you this but, every game starts out this way lmao 😂

— Grilliam Burgerson (@GrillsGoneWildd) March 18, 2023
ADVERTISEMENT
Article continues below this ad
Have you tried DrDisrespect's game Deadrop? Share your honest reviews about the game in the comments down below.
WATCH THIS STORY: Top 5 Best Selling Call of Duty Games of All Time