Chelsea Superstar Edouard Mendy Reveals the Real Reason Behind Staying Away From the FIFA Franchise
Published 03/09/2022, 3:29 PM EST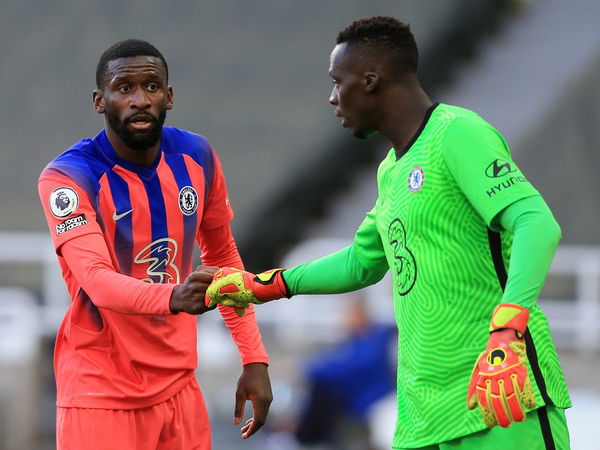 EA Sports' FIFA franchise has become the only franchise for some soccer fans out there. Everyone loves to have a fun and competitive session of gaming in FIFA against their friends while playing with their favorite players and teams. Moreover, many footballers love to play FIFA as well.
ADVERTISEMENT
Article continues below this ad
Liverpool star Diogo Jota is a fantastic player both on the field and in FIFA games as well. However, it seems like not all players share the same love as Jota for playing the virtual soccer game. Stamford Bridge's superstar Edouard Mendy reveals his reason for never trying out the game.
Have a look at this tweet by a trusted Chelsea source below.
ADVERTISEMENT
Article continues below this ad
Chelsea players Rudiger and Mendy are not at all satisfied with their FIFA ratings
EA Sports' FIFA franchise has now become a very relevant name when we think of anything related to soccer. While there are other franchises such as PES by Konami, who make similar soccer simulation games, FIFA is by far the most popular in terms of outreach and users.
It is indeed a matter of prestige for football players to acknowledge their game ratings according to their capabilities. In the above context, Rudiger and Mendy have an overall rating of 83, which is definitely disappointing for both of the players. Mendy, as read in the tweet, says, "I don't play FIFA because I don't like my ratings! This season is still bad! Even for Toni, he wasn't happy. I don't have Twitter otherwise I would definitely complain!"
Speaking of Rudiger, he has also complained about the same on Twitter, trying to hold EA Sports accountable for giving him a bad pace rating. He says, "Come on EASportsFIFA … 35,8 km/h top speed on the pitch and only 75 Pace in FIFA22?! What do I need to get around 90 pace? 50 km/h?"
ADVERTISEMENT
Article continues below this ad
It is important to note that both these players were part of the winning Champions League Chelsea squad of 2021. They have definitely played a monumental role in Chelsea's success and have contributed to the team being counted within the upper echelons of European football once again.
ADVERTISEMENT
Article continues below this ad
Do you think Edouard Mendy and Antonio Rudiger both deserve higher ratings? Let us know in the comments.
WATCH THIS STORY – Toughest Video Game Bosses of all time