Call of Duty Warzone: Dr DisRespect Gets Roasted By NadeShot and TeePee
Published 06/25/2020, 11:32 AM EDT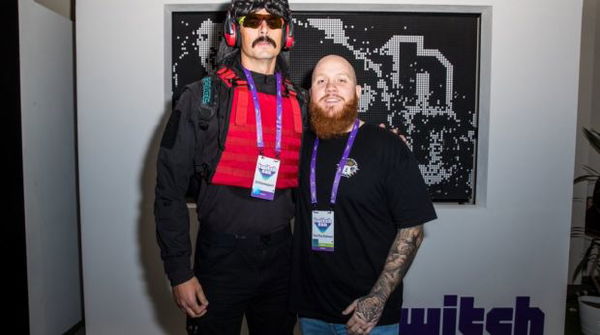 ---
---
Streamers and players taking a dig at each other is not a new sight in the competitive scene, especially in a game like Call of Duty Warzone. This time around the heart of the subject was regarding who the better play is between TimTheTatman and DrDisRespect. 
ADVERTISEMENT
Article continues below this ad
On this week's The Courage & Nadeshot show, Tyler "TeePee" Polchow was asked the question on who he thinks is a better player. You can watch the full-length show below.
TeePee picks the better Call of Duty Warzone player
ADVERTISEMENT
Article continues below this ad
TeePee picked Tim over Doc and also had his reasons. He clarified how he's all about teamwork, which Doc lacks while in-game. 
"I'm a big teamwork guy. Tim's talking, he gets ammunition and he's calling out. When I play with Doc sometimes he's just muting out, doing his own thing. I want some comm or something man", TeePee said.
 Teepee also adds that he has won more games with Doc which includes his 500th and 600th win in Call of Duty Warzone. However, he is not a fan of Doc not communicating as much as he should.  
Nadeshot respects the decision
Nadeshot took a similar stance with his pick. He had the same opinion about Doc. Nadeshot said Doc is a good player but he does things on purpose to entertain his viewers.
"I think Tim is better than Doc. The Doc just gets bored and wants to entertain his stream. He just goes off and does stupid sh*t and ends up dying. It works really well for his show, his stream, and his character. He ends up in a funny situation, but for everybody else, we are trying to win and it's frustrating. I think the Doc is a good player and does stupid sh*t on purpose", Nadeshot said.
ADVERTISEMENT
Article continues below this ad
Nadeshot further said that Tim is great at teamwork and is fun to play with. Both TeePee and Nadeshot had problems with how Doc played. Although it fits his character, both players prefer a teammate who they can work strongly with.
Dr DisRespect responds
Doc had some responses of his own on who the better player is. He mocked TeePee by comparing his voice to Shroud. Doc wasn't happy about Tim being picked ahead of him. He also said he feels like he gets more kills than Nadeshot in every game.
ADVERTISEMENT
Article continues below this ad
The players have taken the issue light-heartedly and given the fact that all four aforementioned plays together on several occasions, this shouldn't be all-out bothering.
A team-based game could go wayward without proper communication between the players. TeePee and Nadeshot picked Tim over Doc for that very reason. DrDisRespect is no doubt a great player, but paying heeds to your teammates could be made a priority.
Trending Stories