Counter-Strike Global Offensive: Astralis' Dev1ce Responds to Fan's Alarming Claim Regarding His Performance in BLAST Premier Series
Published 04/11/2021, 12:50 PM EDT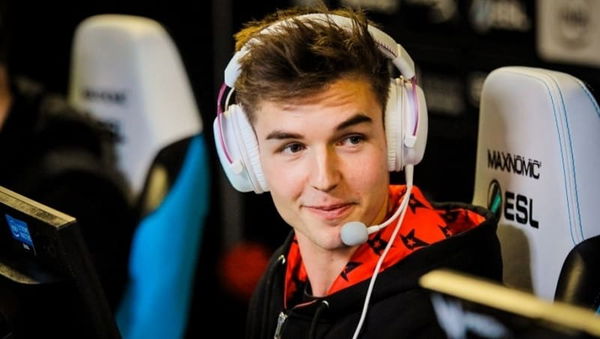 ---
---
Professional players of any eSport titles have to face public scrutiny, especially with a competitive title like Counter-Strike: Global Offensive. The players are seen as public figures and adored by fans the world over for their brilliant skills. But along with the fans come the haters who jump at every opportunity to bring the players down.
ADVERTISEMENT
Article continues below this ad
The pressure on the pros is undoubtedly immense, as every move they make in a match has the potential to have a drastic effect on the community.
Recently, Astralis' ace player Nicolai 'Dev1ce' Reedtz responded to a rather surprising claim made by a CSGO fan. Following Astralis's upsetting loss to Furia in the ESL pro league, one particular fan boldly predicted the team and Dev1ce's downfall.
ADVERTISEMENT
Article continues below this ad
Bold predictions for #BLASTPremier:
– Astralis lose against OG
– team liquid quality to playoffs
– Extra Salt destroys spirit
– gambit choke against NASR
– dev1ce have his lowest performance in years
– mir and degster both have under 1.0 rating

Hopefully i'll get a 0/6 again 🙏

— Macindaw 💅🏼 (@macindaw37) April 11, 2021
Usually, such tweets from fans attract no traction from professional players or the team. In this case, the marquee player for Astralis in Dev1ce surprisingly appeared with a response on the thread, and safe to say, the tweet went viral because of him.
Twitter Reacts to Counter-Strike legend's response
There is an interesting fact about this fan and his tweet predictions; he never gets them right or at least hasn't gotten one yet. So Dev1ce has nothing to worry about. In fact, he should perhaps be rejoicing just because the fan has made such a prediction.
Fans tried to assure the pro player that there is nothing to see here.
Remember all of his previous predictions were wrong. You don't need to worry

— joojoo (@jopskops1) April 11, 2021
Fear the Awp says this fan, reinforcing faith in the pro player's ability despite the recent result against FURIA.
If every prediction this fan makes is incorrect, then it is indeed possible that Dev1ce will see his career's best run. One Twitter user on the thread believes this as well, and it would be interesting to see how things pan out.
device 2.00+ rating incoming?

— Michal Michňák (@MMichnak) April 11, 2021
It could be possible that the fan is an Astralis fan, and he is merely using his powers to reverse jynx his favorite team.
One fan even asked Macidaw to immediately apologize to the legendary Counter-Strike player. It is indeed wholesome when fans get overly defensive about their favorite player,
ADVERTISEMENT
Article continues below this ad
How will things turn out in the upcoming tournament for Astralis? Only time will tell.
ADVERTISEMENT
Article continues below this ad