Destiny 2 Fans Left Awestruck After A Rumored Fortnite Collab
Published 08/21/2022, 10:50 AM EDT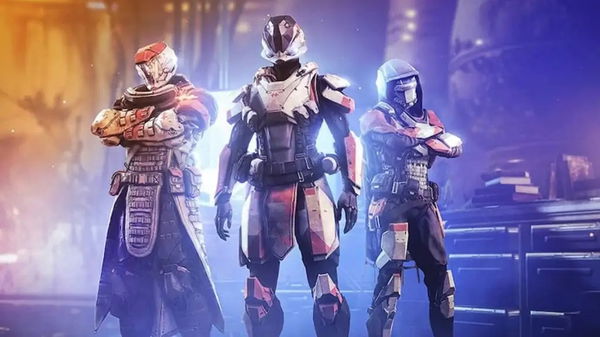 The crossovers among video games have become the new trend. Fortnite is not an unknown name within the video game community regarding crossovers. Recently, there have been rumors about Fortnite joining hands with Destiny 2 to create a unique crossover. This has created a lot of hype among these video games' fans.
Destiny 2 is a free-to-play online multiplayer FPS game that Bungie developed, and then Activision released in 2017. The fans appreciated the gameplay, visuals, and the game's campaign. However, what most fans enjoyed was the amazing-looking armor featured in the game.  Now thanks to the rumored collab, three more incredible armors would likely join the list.
ADVERTISEMENT
Article continues below this ad
Fortnite joins hands with Destiny 2
Gamers are aware that the battle royale game Fortnite is famous for crossovers. The 2017 battle royale game has collaborated with many favorite TV series, movies, and comics. Recently, Fortnite collaborated with the famous Japanese anime series Dragon Ball Z. Many famous creators from the anime are available as skins in the game.
While it has mostly been Fornite that has been featuring the crossover stuff, this time it's the other way round as skins from Fortnite are rumored to appear in Destiny 2. Recently, the leaker Ginsor confirmed on Twitter that it's a done deal and will be happening soon. The leaker has revealed information in the past that has turned out to be true. However, Fortnite or Destiny 2 hasn't revealed anything about it so far.
There is speculation that this crossover will be announced at the upcoming Destiny 2 reveal event. Further, this crossover will introduce three armors inspired by Fortnite skins. The leaker shared a picture that showed the three armors would be inspired by the following Fortnite skins: Black Knight, Drift, and Omega.
Twitter reacts to the potential new crossover
The leak about a crossover between the two games caught everyone's attention. Fans were thrilled to know that Destiny 2 would get three more armors. Further, the fans were excited to know about this crossover on Twitter, although it was a mixed reaction.
Undoubtedly, they couldn't help themselves from wanting those mind-blowing armors. But some fans didn't appreciate the collaboration with Fortnite to get these armors. A few of them even claimed not to like them as well. Let's look at some of the fan reactions.
First off is this real?

Secondly, this armor looks incredible

— DestinyNostalgia (@DestinyNostalgi) August 20, 2022
While I'm not a fan of Fortnite, these sets are low-key fire

— The Devil You Know (@TheDevilUKnowHC) August 20, 2022
i love the new armor, i just hate it has something to do with Fortnite

— Finnish Patriot (@Secret_men_of_Q) August 20, 2022
While this is cool, I really hope not. We don't need fake fanboys saying "oh it's that guy from frostbite when it comes to destiny characters"

— Devin Wolken (@mythicaldevin) August 20, 2022
ngl i think its just a coincidence. probbly just look similar, not fortnite TBH

— JustAFrog (@JustAFrog123) August 20, 2022
Why are warlock sets so ass always?💀 look at that hunter and we get to be a wierdass panda or semething?

— Dredgen Ludwing (@DredgenLudwing) August 20, 2022
ADVERTISEMENT
Article continues below this ad
finally a warlock helmet that doesnt look like a fucking welding mask. and it only took us a fortnite crossover to get it.

— Plutie (@Plutie_) August 20, 2022
ADVERTISEMENT
Article continues below this ad
Undoubtedly, this crossover could help many new fans from both video game universes to connect with each other. What are your thoughts about this crossover? Let us know your thoughts in the comments.
WATCH THIS STORY: Everything you need to know about the new Doomsday Device in Fortnite