Disguised Toast's Bizarre Pool Picture Marking First Day Of His "Vacation" Drives Fans Crazy
Published 01/12/2022, 6:30 AM EST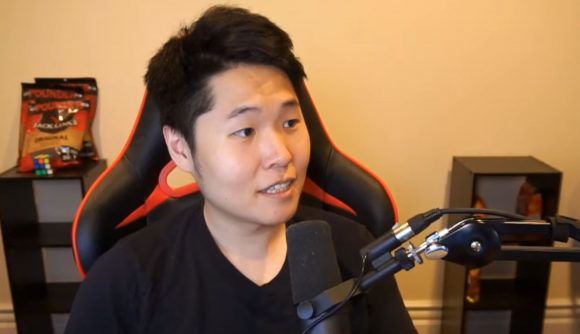 ---
---
The popular streamer Disguised Toast continues to be a hot topic for the entire streaming community post his Twitch ban. Recently, the Taiwanese-Canadian streamer got a month's ban on Twitch for streaming a popular anime show. Ever since then, Disguised Toast has become the talk of the town.
The popular streamer is one of the prominent names in the streaming industry. In fact, fans absolutely love watching him for his fun-to-watch streams. And now, the fans won't be able to watch the streamer for the duration of a month. No doubt this news has left the fans and the entire community saddened. And it looks like the streamer's also going through a hard time.
As recently, Disguised Toast shared a bizarre pool picture driving the entire community and fans crazy.
On the 12th of Jan 2022, Disguised Toast shared an image on Twitter, leaving the entire community surprised. The streamer shared an image featuring him trying to chill in a swimming pool.
Yes, that's right, the streamer finally shared about his first day of the vacation ban. And no doubt the streamer isn't enjoying this significant duration of the ban. This is evident by the caption of the tweet which said, "not taking my v̶a̶c̶a̶t̶i̶o̶n̶ ban very well".
WWE Fan Triggers Furious Debate Among Gamers With a Simple Sign Behind Brock Lesnar Adversary
Fans reaction to Disguised Toast's latest tweet
It looks like Disguised Toast's tweet has already started making some noise. As of now, the tweet has already surpassed a whopping 27k likes, 65 quote tweets, followed by over 640 retweets. The figures reflect that the community has already started missing their streamer.
And not no forget that it's just day one of the streamer's long ban. It's likely that this entire one-month waiting duration is not going to be easy for the fans and the community as well.
Let's have a look at fans' reactions to the streamer's tweet:
Many fans might not be familiar with the reason behind Disguised Toast's one-month ban. So, on the 11th of Jan 2022, the streamer was watching the popular anime show Death Note on his stream. That resulted in a DMCA strike leading to a month Twitch ban.
It is evident by the fan's reaction that they miss the favorite streamer and are eagerly waiting for his return. Comment down below and let us know your thoughts on the incident.
Watch Story: Most Hated Features of Fortnite Chapter 2