Disguised Toast's Massive Ban Leaves Streamers And Fans Scrambling For Answers
Published 01/11/2022, 8:14 AM EST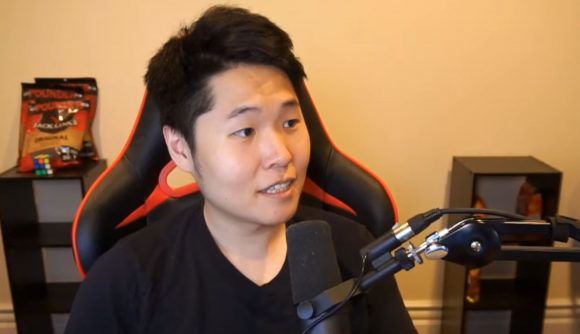 ---
---
The popular streamer Jeremy Wang, who's also popularly known as Disguised Toast among the streaming community, got banned. Disguised Toast is one of the prominent names in the streaming community and has a massive fan following. The Taiwanese-Canadian streamer is popular for his variety of streams. And no doubt the fans love watching this streamer.
But it looks like now the fans won't be able to watch their favorite streamer for a long time. It's all because the streamer got a ban from Twitch for a whole one month of duration, which is a significant amount of time. This must be a little disheartening news for the streamer's fans. In fact, this news has surprised the entire community and the fans as well.
On January 11, 2022, the popular streamer made an announcement himself on Twitter. In fact, Disguised Toast indirectly shared the duration of the ban by saying, "welp, looks like I'll be seeing you guys in a month".
Receiving a whole one month of a ban must be very surprising for the streamer as well. Apart from this, the streamer also hilariously tweeted that the ban could have waited 20 more minutes. 20 minutes was the time left for the completion of the episode of the Death Note anime show that Disguised Toast was streaming on his channel.
From A New Suit to Stunning Visors: Every Single Cosmetic of The Rock's Fortnite Character
Reason behind Disguised Toast getting banned and fan's reaction to it
Many fans might not be aware of the reason behind the streamer getting a ban, but no worries. Disguised Toast was streaming the popular 2006 release Death Note on his Twitch channel. But the streamer did not know about the consequences of this action. And that's how his account got a DMCA strike leading to a month's ban.
When it comes to Twitch's copyright policies, they take all these very seriously. In fact, recently, another popular streamer, Pokimane also got a 48 hours suspension violating Twitch copyright policies.
Let's have a look at some fans and popular streamer's reactions to this piece of news:
It looks like the fans have a mixed feeling about this and for some of them, it's a little hard to digest this fact. Know more about it here.
WATCH THIS STORY –  Toughest Video Game Bosses of All Time
Comment down and share your views on this.