"Disrespect From Riot, I'll Delete This Game"-Simple After Getting His Rank in Valorant
Published 03/24/2021, 12:59 PM EDT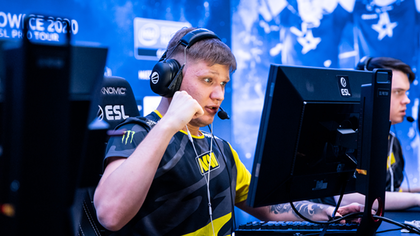 ---
---
Things continue to turn up for the better for Riot Games' tactical shooter, Valorant, as time progresses. First, the title received an amazing response from the community in the initial year with pro players making the switch. Now, more and more professional Counter-Strike players have begun to pick up the game in recent weeks.
ADVERTISEMENT
Article continues below this ad
This has become quite a trend within the ecosystem of modern-day shooters, where famous players tease a total switch. Recently legendary players, NAFly and KennyS both dropped hints about the same. However, neither of them made the move, as it was merely a tease.
Now, another legendary player, Simple, has tried the game as well. However, it seems like the rank adventures within Riot Games' title did not bear the desired result.
ADVERTISEMENT
Article continues below this ad
Navi's Simple's rank experience in Valorant was mostly sour
It looks like the gameplay experience confused the legendary player more than it enticed him. In his 7-hour long stream, the pro player encountered several things that have been a talking point for critics of the game. The awkward movements, the infamous run and gun, as well as the mute teammates inside the ranked games irked the pro. Naturally, he vented out his frustration in the stream.
In a few instances, viewers got to see the best version of the player. He managed to showcase his insane abilities and easily outgunned opponents. While it indeed seemed like Simple was not sure what was going on in the map, he ignored it all and kept popping heads.
He had one critical issue with the movement mechanics and sniper rifle Operator of the game. Unlike CS:GO, Valorant did not allow him to play his usual aggressive plays with the sniper. This issue came to the surface because of the massive nerf that Riot introduced to discourage its use. Simple, however, thinks it was unnecessary, as Valorant allows flashes to be used more creatively.
This rank journey eventually came to a close with the pro player winning a couple of games and losing a few as well. This paved the way for the moment of truth, which revealed the legendary player's opening rank.
" Man I had this before (points at Immortal Rank) and now I get F***G this get Platina, after 3 wins and 2 lose. Man after this disrespect, I want to delete this game, but I want to win more F**K undeserved rank, disrespect from riot man"
ADVERTISEMENT
Article continues below this ad
Check out his complete reaction in the video below, which clip by a fan from his live stream.
It is safe to say the rank of Platinum 3 was not something that a player of his caliber would accept. He is one of the greatest players of all time for Counter-Strike. Naturally, this rank pissed him to a point of no return, as he vowed to delete the game later on.
ADVERTISEMENT
Article continues below this ad