Dr Disrespect Mocks Warzone Devs With a Hilarious Skit Involving King Kong and Godzilla
Published 05/13/2022, 3:10 PM EDT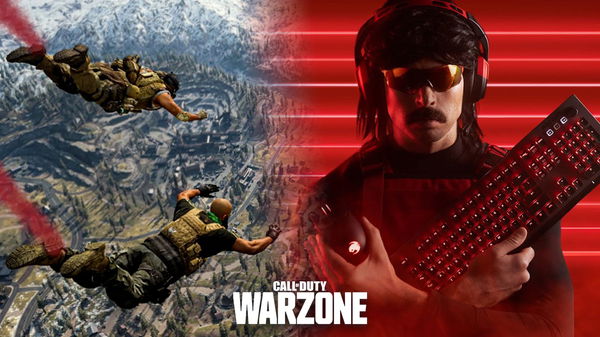 Gamers are definitely wary of the immense ideas and criticism that Dr Disrespect has for the Call of Duty franchise. The Two-Time's content runs on ranting and calling Activision out quite often on the Call of Duty games.
ADVERTISEMENT
Article continues below this ad
Once again in his very classy manner, he mocks the latest collaboration in the game which is the Monsters Universe IPs. King Kong and Godzilla are the latest characters to feature in Warzone and it seems like the Doc has a lot of things to say about it.
ADVERTISEMENT
Article continues below this ad
Dr Disrespect suggests bringing the Monster Universe to Call of Duty: Warzone Pacific
Just like Fortnite, even Call of Duty is ramping up with some high profile and lucrative collaborations from across IPs. Just a few weeks back, the franchise collaborated with the anime Attack on Titan to bring in some of their characters into the game. Furthermore, even rap legend Snoop Dog has appeared in the game with his very own skin and bundle pack.
Right about now, a new collaboration has come in Warzone which features the Monsters Universe. No, do not confuse this with Disney's Monster Inc. The Monster Universe refers to the legendary yet terrifying characters- Godzilla and King Kong.
WATCH THIS STORY –  Top-Selling PlayStation, Xbox, and Nintendo Consoles of All Time
Doc, in his usual eccentric manner, mocks this new idea in the Caldera map. He role plays two fictional developers – Fred and John who come up with an 'ingenious' collaboration idea. The idea being introducing the Monster Universe in Warzone.
However, this would not be the first time that Godzilla is appearing in a video game. In fact, Godzilla has titles to its own name as well. Starting with 1983's game of he same title, the series followed the release of Godzilla Challenge One, Godzilla and the Martians, Godzilla vs. 3 Major Monsters, and many more.
It seems like the Doc does not like the idea of new collaborations in the game at all. Perhaps if Sledgehammer actually heeded the serious suggestions that the Two-Time rants in his streams, that might satisfy him enough to be happy with the game.
Fan give their take on the Doc's impromptu performance
The fans seem to be pretty much amused with this amazing proposition put forward by the Doc. Here are some of the reactions, including that of Nickmercs which is worth taking note of.
ADVERTISEMENT
Article continues below this ad
I was thinking King Kong and Godzilla would end up fighting and destroying Caldera and a new map would be introduced. Either way the event doesn't make much sense, but it something different lol

— Pingo (@IceColdPingo) May 12, 2022
ADVERTISEMENT
Article continues below this ad
So, would you also like to witness the epic Godzilla vs Kong battle in the Calder map? Or do you agree with Doc's mockery of the new collaborations? Let us know in the comments.