Dr Disrespect Shuts Down Fan Story About NBA Finals While Playing Random Duos in Warzone
Published 07/22/2021, 1:50 PM EDT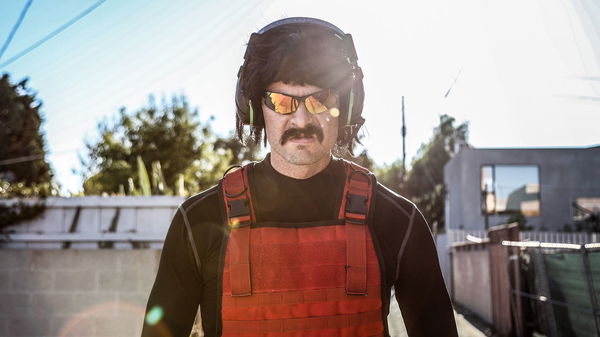 ---
---
Recently, the world of NBA saw a historic grand final played between Milwaukee Bucks and Phoenix Suns. Dr Disrespect was also seen laying down bets in favor of the Phoenix Suns, but sadly the end result did not go his way. The bucks staged an incredible comeback victory that saw them winning 4-straight games to lift their second NBA title in over  50 years. Naturally, this would foul any supporter to see their team do so well but still fail to live up to the expectations.
ADVERTISEMENT
Article continues below this ad
Doc placed a bet on Devin Booker to stage a stunning performance by accumulating 30+ points in game 6.
ADVERTISEMENT
Article continues below this ad
Recently. Doc encountered a fan in a random duo lobby, who had an interesting theory about Sun's performance. However, Doc was just not interested in the player or his theory, as the streamer shut him down and exited the game. It seems like Doc does not like to make excuses, and instead, he has just accepted the fact Phoenix Suns, just got overwhelmed.
TimTheTatman also offered his reaction to the emphatic win of the Bucks after dropping the first 2 games.
the last time the bucs won the NBA finals… the cowboys won the Superbowl…

— timthetatman👑 (@timthetatman) July 21, 2021
Twitter reacts to Dr Disrespect meeting a random fan
Fans were left in splits after Doc shut down a fan who tried to sell him a conspiracy theory. The entire interaction was funny, and it indeed made many ardent followers of NBA chuckle.
It is okay to feel sad after your team loses, but it is never encouraged to spread misinformation. However, Doc dealt with the fan in the most hilarious way possible.
Fucking died yesterday when this happened. 😂

— 🔫Pistol Scrimp🦐 (@M4G3RK) July 22, 2021
Another user suggested that maybe he should have done this when he encountered the random fan in the public lobby.
Is it possible that the fan never realized that Doc left the game, and he continued to share the story with absolutely nobody? This fan ponders the same thing, but the chances are highly unlikely.
Rumor has it, he is still telling the story

— Riano Rios (@RRP88) July 22, 2021
Meanwhile, this fan concurred with Doc's response, and yes, it was a cool story indeed, but not good enough for him to stay and hear the end of it.
ADVERTISEMENT
Article continues below this ad
NBA finals have indeed concluded producing an exciting series of 6  games between two top-rated teams. But In the end, it was Giannis Antetokounmpo's side who came out victorious, securing a dominant 4-2 victory over a seasoned team.
ADVERTISEMENT
Article continues below this ad
Watch this story: Top Fortnite Streamers
Trending Stories