Dr Disrespect Unloads Hysterical Rant About Apex Legends Even as Everyone Flocks to Season 10
Published 08/05/2021, 9:15 AM EDT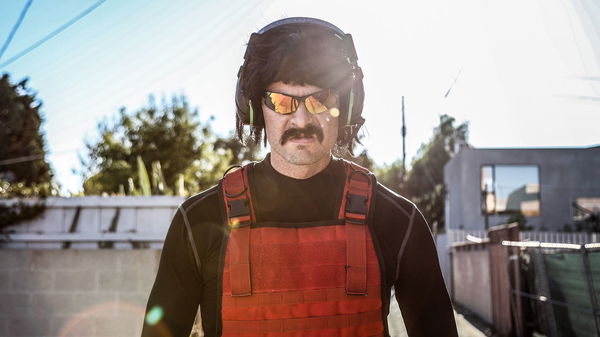 ---
---
Apex Legends is a special Battle Royale title that offers an amazing experience that simply cannot be replicated. Popular streamers like Dr Disrespect, Nickmercs have already abandoned Warzone because of cheaters and pickup Apex Legends. It seems like Respawn Entertainment's Battle Royale game is coming back to its glory because of the horrible state of Warzone.
ADVERTISEMENT
Article continues below this ad
Doc also joined the exodus, and his time with Apex Legends has produced some frustrating moments. The title is centered on abilities and core mechanics that revolve around shooting and rapid movements. Gun duels and team clashes take an elongated time to conclude as the title has higher time-to-kill. Doc seemed totally frustrated with the title, as he ranted about all things he hates about the title.
"This is nothing like cracking the two and then having to sit there to watch them heal and then go to the next f***g guy. That's why, I don't like this game, I hate this game. It's boring, shooting shields, I don't like it, a full spray and the f*****g clip is never enough to knock a guy. Right, that is why no one wants to watch this game, competitively."
ADVERTISEMENT
Article continues below this ad
Video source: Esports Talk
Dr Disrespect likes Apex Legends but isn't a big fan of the gameplay
ADVERTISEMENT
Article continues below this ad
Apex operates completely differently as compared to everything else in the market. This can indeed seem frustrating to newer players, but after a short while, everything comes together. It seems like Doc simply got caught up in his emotions and the nature of the game got the best of him. He expressed his dissatisfaction with the game and the community thought he really dislikes the title.
"Anybody seen my tweet over the weekend? I, you know, I at the time I spoke my mind in the moment of that Apex Games, as you guys know people that actually are inside of the arena, know that like hey I'm actually enjoying myself with Apex man. I am having a good time with the game, and If I am not screaming and yelling about your game and then tweeting it out, and tweeting it out, then maybe I don't like the game." 
ADVERTISEMENT
Article continues below this ad
Dr Disrespect offered clarification later on stating his actual thoughts about the game and stated that he loves the game. It is keeping him occupied and enjoys streaming it routinely.
Watch this story: Most Controversial Streamers
Trending Stories