EA Madden NFL 21 Announces Revamped Championship Series
Published 08/26/2020, 9:55 AM EDT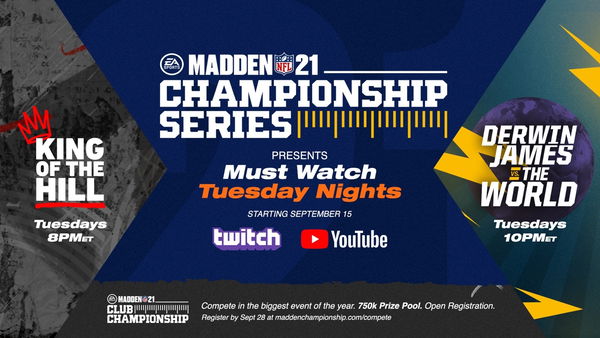 For all the NFL fans out there, the moment has come. EA has announced the Madden NFL 21 Club Championship Series for the year. One of the biggest events of the year, it will let players represent their favorite teams on the big stage.
The competition is free to register for all levels of players. In the end, one player from each club will be crowned the Club Champion. The event will have a total prize pool of $1.4 million, the highest in its history.
Championship series has been revamped with many new offerings and tournament formats. EA's decision to shift things up will be a huge benefit for both platforms.
ADVERTISEMENT
Article continues below this ad
Tuesday nights are going to get bigger for NFL fans with some of the top players on board to entertain live on Twitch and YouTube.
The Madden NFL celebrity event kicks off from September 15th and will host the new "King of the Hill". The new format will be elimination based where two top athletes will go toe to toe to determine the better player.
The Club Championship will go on for 8 weeks. It consists of 32 NFL teams broadcasting every Tuesday with more additional tournaments set to drop soon.
The registration is open and anyone who registers will receive a free Elite Fantasy Pack for their MUT team.
Registration for the @NFL Club Championship is LIVE!

Anyone who registers will receive a Elite Fantasy Pack for their MUT team!https://t.co/2i1QzkvZLx

— Madden Championship Series (@MaddenLeagueOps) August 25, 2020
New Pass Rush move system in NFL 21
If you are likely to compete in the Championship Series, a couple of tips and tricks would be helpful. The new pass rush system has been completely overhauled.
One major change is the pass rush budget. This has pass rush moves indicated as notches in a meter. If the meter is empty, you'll be unable to make any other moves.
ADVERTISEMENT
Article continues below this ad
The offensive line has an added interface of blocking resistance bars. The lineman remembers the history between each specific pass rusher throughout. The lineman will be difficult to beat every time you face him.
ADVERTISEMENT
Article continues below this ad
A solid ration in the defensive line would be a good way to tackle this. Constantly changing positions would make it even harder for the lineman to remember your pass history.
Hopefully, the tip will come in handy if you do end up competing in the Club Championship. If you plan on registering, you still have a lot of time left.