EA UFC 4 Patch Note Packs in Major Changes
Published 08/29/2020, 2:23 PM EDT
---
---
Every game needs a bit of tweak to make the experience even better. As for UFC 4, they got most parts right, and now EA is looking to bring in changes that the community badly wants with the new patch. YouTuber Martial Mind decided to decode all the big changes and he had some valuable inputs to voice as well.
ADVERTISEMENT
Article continues below this ad
EA brings major changes to UFC 4
ADVERTISEMENT
Article continues below this ad
One of the major issues EA has fixed is the issue with takedowns. Players have been complaining for a while now and the developers have jumped right in with the solution.
Fixed issues that could prevent denying takedowns while moving or striking
There are three ways to get taken down in the game. Driving an opponent to the ground isn't really an easy task but with this bug, opponents were easily able to do so. The patch fixes the issue that prevents denying takedowns while moving or striking.
The game was reading the players movement as denying a takedown and implemented a sort of punishment. That caused a lot of takedowns, even in cases that shouldn't have worked.
Now the game will only read the left stick input after you've already pressed L2 and R2 and not before. This is going to make denying takedowns a lot easier.
Moveset changes
Previously, pressing striking modifier buttons such as throwing hooks or overhands, could cause them to be interpreted as an attempt to apply a reversal to a takedown that already started. This has also been tweaked. The two issues together were affecting all shooting takedowns including and it won't happen henceforth.
Fixed an issue with Imanari Roll being available in 'Stand and Bang' and KO modes
Exploit with Cage Back Clinch drives fixed
Fixed an issue with von flue choke stamina
When executing the Von Flue Choke, the stamina for attacker and defender were swapped and the fighter with less stamina had the advantage. Executing the move next time won't be of any issue.
The Marathoner perk was something that always gave a player the higher ground. It has been nerfed now and the effect has been reduced drastically. Previously, fighters who used the perk were able to throw opponents around and successfully regenerate stamina quickly.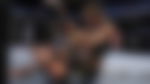 Stamina is key in the game and if someone can exploit that, then it's game over.
EA has also tuned the Guillotine chain progress in UFC 4. If you got an opponent in the guillotine against the cage, the game gives you options for input buttons. Before the progress was too much; it used to take from guillotine into a strange 4 submission for example. Now the amount of progress has been reduced.
AI and Fighter changes
AI improvements are also coming, but these aren't major ones. In full guard and half guard, if you are the fighter in the bottom, locked in with one hand, AI used to use the same hand to strike that gives you the free space to attack.
Clinch grapple frequency has also been reduced from AI opponents.
ADVERTISEMENT
Article continues below this ad
Another noticeable change is that the side control damage is reduced and they have tuned body strike damage for all shots. Many felt this was unneeded, but we aren't sure to what level it has been tuned.
Fighter records will be updated to the latest ones; something which EA has already promised.
Move updates and perks for some fighters have also been added. The list includes:
ADVERTISEMENT
Article continues below this ad
Justin Gaethje
Cory Sandhagen
Amanda Nunes
Germaine de Randamie
Paulo Costa
Ronda Rousey
Valentina Shevchenko
Johnny Walker
Dan Hooker
Eddie Alvarez
John Lineker
With all these changes coming in the new patch, the game is set to get a whole lot better. There could be even more additions, but we'll know more when EA announces it. Till then, stay tuned.