Fans Demand WWE SmackDown vs Raw Remaster Days After GTA Trilogy: Definitive Edition Launch
Published 11/13/2021, 10:39 AM EST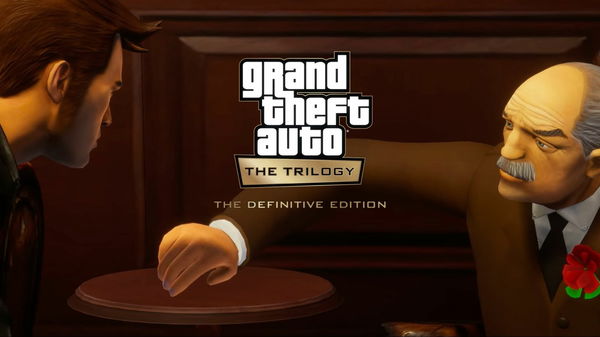 ---
---
The gaming community once again got the chance to celebrate something amazing. Recently, Rockstar Games' announced the release of a brand new Definitive Edition of GTA's Trilogy titles. This includes all three major games, which left an everlasting mark on the community and catapulted the Grand Theft Auto franchise to newer heights. The developers of the franchise want to pay homage to the legacy games, and on the occasion of the 20th anniversary of GTA 3.
ADVERTISEMENT
Article continues below this ad
This has kickstarted a brand new trend on Twitter, as fans are demanding the developers of SmackDown vs Raw to be remastered. This professional wrestling title is widely regarded as one of the better games from the long-gone era. As Rockstar Games brought GTA Trilogy back, maybe it is time for Yuke to take the same route.
ADVERTISEMENT
Article continues below this ad
video source:  Rockstar Games
Success of GTA Trilogy has spawned a new wave
The era of ruthless aggression in the middle phases of WWE spawned an iconic trilogy that is unforgettable. The studio behind the epic trio titles in Raw vs Smackdown 2005-2007 is still regarded as the best pro-wrestling titles. Certain portion of the community can make the argument for Here Comes the pain and others, but this era of brand wars was something else.
ADVERTISEMENT
Article continues below this ad
The roster of the title featured all the iconic names, which made the game truly unforgettable. It contained legendary names the like of Shawn Michaels, Triple H, Goldberg, The Rock, Brock Lesnar, Undertaker, Kane, Eddie Guerrero, Rikishi, John Cena and many more. These legendary names, coupled with amazing gameplay, helped turn the titles into one of the best things in the world.
ADVERTISEMENT
Article continues below this ad
This is why fans simply cannot get enough of them and even after 15+ years since its release, the community wants their developers to revisit them. Modern-day upgrades and serious headways may have given birth to significantly better versions of the games, but nostalgia isn't something that fans can ever forget. This is where the developers, THQ and Yuke can capitalize on the new wave, and come up with a remastered titles.
Watch this story: Best MMORPG Games Coming in 2021