Fans Ecstatic as Fortnight Unveils Deadpool Skin
Published 04/03/2020, 2:40 PM EDT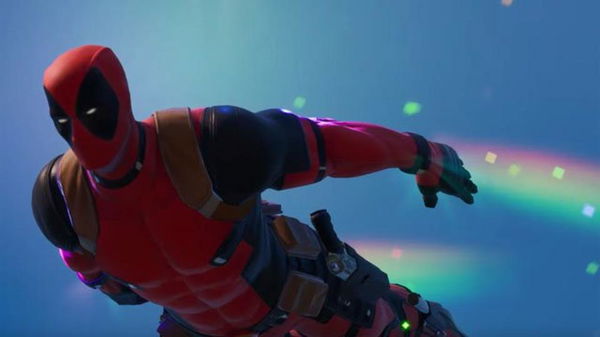 ---
---
When the current season of Fortnite dropped, fans got hyped when a familiar face made an appearance. Marvel anti-hero and 'The Merc with a Mouth' was spotted in the game as part of a variety of easter eggs. Frustratingly, he remained as an NPC character, until now. Fortnite has just debuted a new Deadpool skin, as the fan favourite character makes his appearance.
ADVERTISEMENT
Article continues below this ad
As it turns out, players who bought the season's battle pass can buy the skin. Furthermore, he can also be unlocked when the player finds two pistols hidden in the menu screens. Once that is complete, players can head into a match and change into the Deadpool skin at phone booth littered across the island.
ADVERTISEMENT
Article continues below this ad
What else is Fortnite offering?
The best part it, this skin isn't just for show, as it possesses special abilities as well. Additionally, players can unlock weapons like Deadpool's katanas, as well an alternate version of the costume. This version is an unmasked Deadpool, so that people can gaze at his ugly mug while he shish-kebabs them.
However, many predict that they will have the most fun with the yacht in the northeastern part of the map. Apparently, the update transforms it into a Deadpool party boat, complete with giant balloons and a helicopter landing pad.
ADVERTISEMENT
Article continues below this ad
Deadpool is not the first comic book character to feature in Epic's long-running battle royale. He joins the likes of the Avengers, Batman, and Harley Quinn. The update is the first major addition to the Fortnite island since mid-March. This was when Epic added helicopters to the game, along with a much-welcome redesigned cosmetics locker.
Previously, Deadpool left his Big Black Marker, his Plunger, his Stuffed Unicorn and his Katanas laying about, among other items. This is quite possibly the easiest "secret" seasonal skin to obtain. Once upon a time players had to complete numerous challenge to get the secret skin. For Deadpool, it simply boils down to two triflingly simple challenges each week.
If people miss out on completing the challenges, there is no need to fret. Apparently, another set of challenges is available next week in order to unlock a second, maskless skin style for Deadpool.
ADVERTISEMENT
Article continues below this ad
That's right baby! Deadpool is in the game. Just need to complete his Challenges this week and voila, he's yours.

Even antiheroes have to heed the call 😏 pic.twitter.com/ARLR2fG8lx

— Fortnite (@FortniteGame) April 3, 2020
Trending Stories