Fans Slam Halo Infinite By Mentioning Fortnite's Massive Gesture For Their Fans
Published 01/07/2022, 1:55 PM EST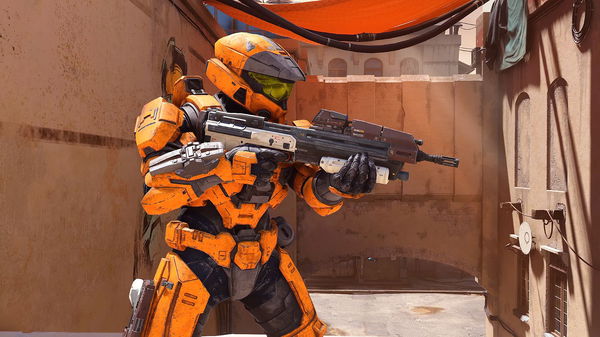 It seems like Halo fans are quite disappointed with the way things are being managed by 343 Industries. One player on Reddit was seen complaining about the lack of proper response from the developers for fixing the Big Team Battle mode in Halo Infinite. The fanbase seems particularly angry about a lack of compensation from the developers as compared to Fortnite, which is offering in-game content to compensate for the 6-hour downtime.
ADVERTISEMENT
Article continues below this ad
Halo Infinite fanbase is not happy about the Big Team Battle mode glitches
Halo Infinite has been largely successful since its surprise release in late 2021. However, fans have been unhappy with how the BTB mode is working in the game. One Reddit user ranted about the same in the Halo subreddit and criticised 343's method of asking money to buy challenge swaps and continue to level up.
ADVERTISEMENT
Article continues below this ad
For those who don't know, the BTB mode essentially pits two teams of 12 members against each other on large-scale maps. However, the issue with the mode is that it seems totally cooked up at this point. Some players might get inadequate team members, be dropped from matches, or do not get matched at all. 343 had even reduced the team size to 10, but all in vain.
While such glitches and bugs in online matches aren't uncommon, what has seemed to frustrate the players even further is the BTB themed weekly challenges coming even while the game is not functional at its best.
This issue has been blowing up quite heavily on social media where players have expressed their frustration. Some players think that a hotfix should be enabled to disable these challenges for BTB while others think that BTB challenges in the rotation are just a waste of precious XPs.
In the Halo Waypoint forum, a representative of 343 stated,
"Unfortunately, the complex nature of this problem, coupled with the impending holidays, means we will be unable to resolve this issue for at least a few more weeks. Work continues as possible but with upcoming closures and dependencies – and a critical need to ensure the team has adequate time to recharge after a tough year – we are targeting a patch in January. This issue is a top priority and we hope to have updates to share once everyone is able to re-engage after the break."
Players on Reddit have reacted to this issue and addressed their concerns. Have a look at some of it below.
ADVERTISEMENT
Article continues below this ad
ADVERTISEMENT
Article continues below this ad
From the information provided so far, there might be a proper fix coming soon for this mode in Halo Infinite. Fans hope that 343 resolves or rather compensates for such impending issues ruining the gameplay experience. What's your take on the issue? Let us know in the comments.
WATCH THIS STORY – Toughest Video Game Bosses of All Time