Fans Turn on CDPR for "Lying" About Cyberpunk 2077 and Keanu Reeves
Published 12/12/2021, 12:50 PM EST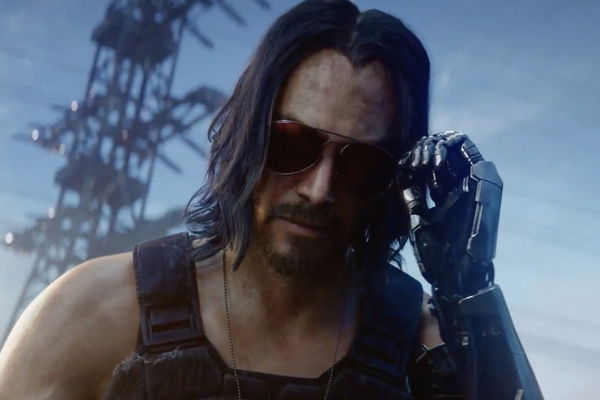 ---
---
Cyberpunk 2077 has made its mark on the gaming community regardless of genre. However, it is not for the right reasons. Filled with bugs and glitches, the game was released in a pathetic and unplayable state in general. One of the memorable moments of the game's marketing was Keanu Reeves. He was extensively involved with the game's promotion. However, it turned out, CD Projekt Red has misled gamers using this marketing technique.
ADVERTISEMENT
Article continues below this ad
Watch Story: Most Hated Features of Fortnite Chapter 2
Keanu Reeves merely used for Cyberpunk 2077 promotion
ADVERTISEMENT
Article continues below this ad
Keanu Reeves has been so involved in the game's promotion and production that his likeliness even features in the game. He plays the role of Johhny Silverman who is a foul mother rockstar who plagues the player's consciousness. Naturally, a portion of the community held Keanu responsible for the promotion of such an unfinished game. However, this Reddit post shines a light on this issue.
ADVERTISEMENT
Article continues below this ad

The Reddit post showcases two frames. One of an interview with Keanu Reeves was posted just two days ago. The other comprises an article written in December 2020. The interview shows Keanu being asked whether or not he got a chance to play Cyberpunk 2077. Without hesitation, he says that he has not played the game and has merely seen demonstrations of the game. The second frame shows the headline of how CD Projekt  Red CEO Adam Kicinski affirms that the Hollywood actor got his hands on the game. The article continues to say how much Keanu enjoyed the game.
This Reddit post posted by the users certainly puts the viewer at a crossroads. At least one of the two entities is lying. Other Reddit users pointed this statement out as well.

There has been a trend where large AAA video game developers have consistently misled the player base. Recent examples such as The Grand Theft Auto Trilogy and Battlefield 2042 serve as suitable examples. Users are quite in awe of the market manipulation that took place.
ADVERTISEMENT
Article continues below this ad

It looks like CDPR was blatantly lying to the player base and has a lot of explaining to do.