Fans Uncover a Hidden Easter Egg in Back 4 Blood That Pays Homage to Legendary Band Iron Maiden
Published 10/09/2021, 2:04 PM EDT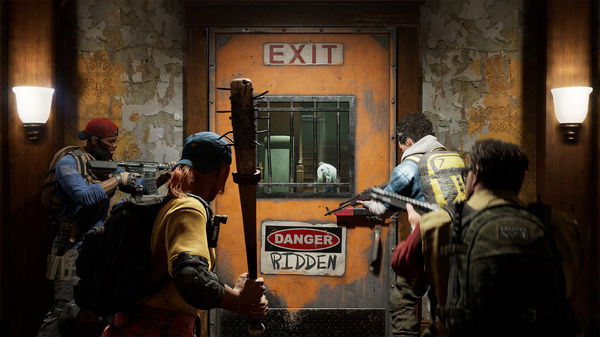 ---
---
The music, movie, and gaming industry have been inspiring each other since the beginning. This fantastic trio has produced splendid products that continue to enthrall people across multiple generations. It seems like the developers behind Back 4 Blood are fans of the music industry and especially the 80s era of metal bands.
ADVERTISEMENT
Article continues below this ad
The team at Turtle Rock studio has used this game to profess their love legendary metal band Iron Maiden in the most innovative manner.
ADVERTISEMENT
Article continues below this ad
video source:  IGN
Back 4 Blood pays homage to Iron Maiden's iconic song
The zombie-fighting title is merely a few days from releasing worldwide. Gamers who got the chance to play this title earlier than the world have wasted no time in grinding it out. Turtle Rock is clearly a fan of Valve's Left 4 Dead franchise, as the game shares startling similarities.
Meanwhile, one fan of the game shared a rather interesting tweet as he uncovered a cheeky Easter egg aimed at Iron Maiden fans. The clock and its hands striking at 11:58 clearly point at the famous Iron Maiden song, 2-minutes to midnight.
ADVERTISEMENT
Article continues below this ad
Back 4 Blood is a fantastic take on the zombie fighting genre that Valve seemingly left out. It does contain all the bright ideas that were first introduced in Left 4 Dead. If Valve refuses to acknowledge fans' requests, then good guys like Turtle Rock will have to take matters into their own hands.
Much like Left 4 Dead, chaos is the law of the land in this game. The title has a roster of characters and particular abilities that grant them unique personalities and gameplay. The zombie-fighting crew goes by the name of cleaners with special starter weapons.
ADVERTISEMENT
Article continues below this ad
The roster of abilities allows them to revive teammates, find more ammunition in the surroundings, and more. This aspect of the game adds a layer of depth and much strategy while choosing a proper team. Zombies go by the name of Ridden, and they do have a wide range of mobs that can carry specific powers. Left 4 Dead fans will definitely love this game as it will grant you one more chance to experience nostalgia.
Watch this story: Video Game Franchises Returning to Consoles
Trending Stories