FaZe Clan Triggers Cristiano Ronaldo and Lionel Messi Fans With Their Latest Signing
Published 07/02/2022, 9:10 AM EDT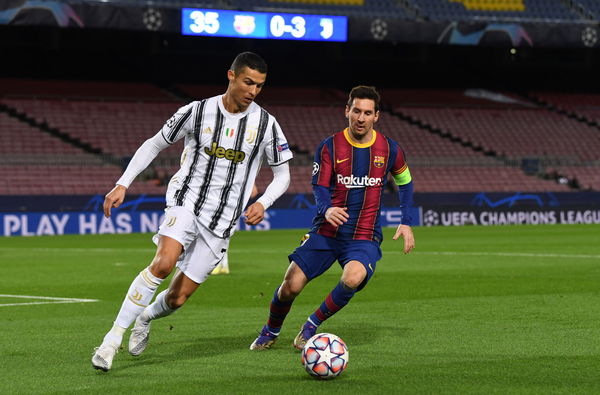 Amidst the signing of a new member, popular Esports organization FaZe clan, has irked Messi fans with their ranking tweet. The tweet came right after the new member announcement, starting a war in the comments.
ADVERTISEMENT
Article continues below this ad
Professional Esports organization, FaZe clan, recently signed a Fortnite professional to their team. They posted an official tweet to welcome their newest member, StableRonaldo, who finally walked into the Faze house.
Although, that wasn't enough to mark his welcome, as the clan put out a tweet talking about two football legends: Cristiano Ronaldo and Lionel Messi.
ADVERTISEMENT
Article continues below this ad
FaZe clan irked football fans by mentioning two of the biggest arch-rivals
On July 1, 2022, a world-class gaming organization, FaZe put out a tweet saying, 'Ronaldo > Messi.' The tweet was inspired by their latest recruitment, StableRonaldo, who joined the clan recently. 
FaZe clan's tweet doesn't connect with the recruitment, as its statement is far better to be true. While Messi has 769 goals in 974 appearances, Ronaldo has 815 in 1122 matches. On the other hand, Messi has 331 assists as compared to Cristiano, who only has 230. So, even if Ronaldo has more goals as compared to Messi, his ratio is far lesser than the PSG player.
Fans did not react well to FaZe clan's opinion as they felt that the organization need to work on their football knowledge. Here's what a few of them said. 
As a Ronaldo fan, Messi is better sadly

— Horsey 馬 (@horseyfps) June 30, 2022
😆 seems like someone never watched fútbol before, just stay in ur virtual world lad… this world cup is ours (save this tweet)

— The Ultimate Surf Legend (@The_USurfLegend) July 1, 2022
Mbappe clears both of them sadly

— JannisZ (@JannisZFN) July 1, 2022
Messi 7 ballon'dor✅
Ronaldo: 5 ballon'dor❌
Messi: 6 Botines de oro✅
Ronaldo: botines de oro❌
Messi: 4 champions❌
Ronaldo 5 champions✅
Messi: 769 goles(35 años y 10 veces mejor creador de juego)
Ronaldo: +800 goles(36 años y premier league)
Sigo abajo⬇️⏬🔜

— MateoNeuge (@mateoneuge) July 1, 2022
American Giant adds another Fortnite pro to their roster
For the past few days, 2019 FNCS winner, StableRonaldo, tweeted about a massive event on June 28, 2022. The Fortnite pro hinted toward a new chapter of his life, as he tweeted the date on his account.
ADVERTISEMENT
Article continues below this ad
Finally, the day arrived as both parties, Ronaldo and FaZe confirmed the news. Here's what Stable said while joining. "I've looked up to FaZe Clan for as long as I can remember, so to be here now as an official member and working alongside everyone is an incredible feeling."
ADVERTISEMENT
Article continues below this ad
WATCH THIS STORY: Top-Selling PlayStation, Xbox, and Nintendo Consoles of All Time
What are your thoughts about this? Do you support FaZe clans' ranking or do you have a different opinion about it? Let us know your valuable opinions in the comments section below.