"FINNA BE THE FIRST IRON MAN TOO GET STURDY" – Fans Thrilled as MrBeast Kept His Words by Buying $14,550 "Iron Man Suit" for the Popular Twitch Streamer
Published 02/20/2023, 9:50 AM EST

Follow Us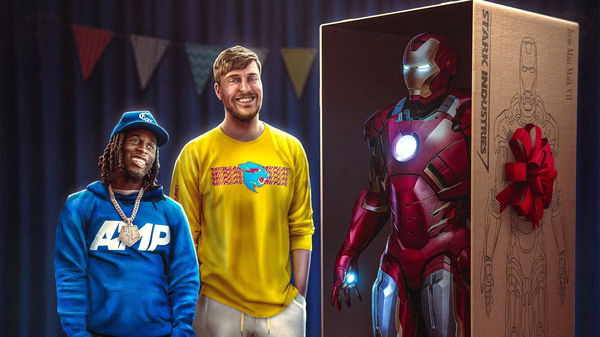 The Holidays might have come late for the Twitch sensation Kai Cenat, but he has received his dream. The 21-year-old streamer recently unboxed the gift which he had wished for during Christmas. Cenat wanted an Iron Man suit which he had dreamed of, and he now has the item to become the Marvel superhero all thanks to the 'YouTube King' MrBeast.
Kai Cenat is currently hosting his 30-day subathon event called 'Mafiathon,' which began on February 1  and will last until March 2. The Twitch audience is enjoying Cenat's subathon, as he got lots of views and subscriptions. But he got more attention from the fans when dropped the bomb about unboxing the Iron Man suit that he got from the 'YouTube King'.
Kai Cenat got an Iron Man suit from MrBeast
ADVERTISEMENT
Article continues below this ad
During a livestream last year, Kai Cenat came across a realistic Iron Man suit. The Twitch streamer desperately wanted to buy that item, but the streamer was unwilling to spend $14,550 on it. So, he requested Jimmy "MrBeast" Donaldson over Twitter to buy the suit for him. Cenat also promised to return the money for the suit to Donaldson, but in installments.
But to Kai Cenat's surprise, the 'YouTube King' agreed to buy the Iron Man suit for him and asked when he should send it. Many might think that the 24-year-old might have joked about buying the suit for Kai. However, Donaldson stuck by his words and bought the suit for the Twitch streamer, which Kai recently unboxed.
Those who follow MrBeast already know that spending $14,550 to buy someone a gift isn't a huge deal for him. He is known for hosting exotic giveaways, where he has given away gold bars, bags full of money, expensive cars, and even a private island. Further, MrBeast is also an Iron Man fan and also possesses an Iron Man suit, which a fan gave him.
How did everyone react to this?
Kai Cenat's fans are thrilled to know that MrBeast gave the $14,550 Iron Man suit to their favorite streamer. Further, fans claimed it was a major win moment for the 21-year-old Twitch streamer. One even asked Kai to perform his iconic 'Luddy dance' wearing that suit.
ADVERTISEMENT
Article continues below this ad
Damn im watching it live and i missed this part damn 😂 im rewatch 💯💯💯💥👌🏾

— Prospect._Zay (@Isiah51297138) February 20, 2023
ADVERTISEMENT
Article continues below this ad
WATCH THIS STORY: MrBeast Spends Nearly $10,000 to Buy the Most Insane Things From Amazon
Do you want to see Kai Cenat stream wearing that Iron Man armor? Share your thoughts in the comments below.