Fortnite Chapter 2 Season 5 Finale Event Could Pit You Against Midas
Published 02/28/2021, 11:29 AM EST

---
---
The Fortnite storyline has progressively become more complicated with each season. In the second chapter, fans witnessed Midas taking over, and afterward, Marvel Avengers made their presence known. No one saw this major shift coming, as the story quickly jumped from spy wars to superhero warfare. As a result, fans got to see characters like Thor, Wolverine, Tony Stark aka Iron Man along with many other fan-favorite characters.
ADVERTISEMENT
Article continues below this ad
This long-staying storyline saw the inhabitants taking on the world eater 'Galactus' in the final event for Season 4. This event has proved to be a mega successful endeavor and it looks like Season 5 will also end with a bang.
ADVERTISEMENT
Article continues below this ad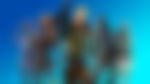 Fortnite Season 5 could reveal Midas as the final boss battle
Fortnite is going headstrong with the latest season, as it continues to add legendary hunters in the mix. The storyline of the island thus far revolves around Agent Jon Jones' secret mission into the zero point. He is busy gathering legendary hunters that will serve the Imagine Order. Through the Marvel saga arc, the game indeed teased a shadow realm version of Midas.
Safe to say, Midas, or the rumored female Midas, will make a comeback in a big way in the ongoing season. This character will pave the way for the mythical drum gun that is an absolute monster in the game.
The story of the spy wars had abruptly come to a close with the massive explosion at end of Chapter 2 Season 2. Gamers saw Midas floating on his lonesome raft and right before apparently being eaten alive by a shark.
ADVERTISEMENT
Article continues below this ad
video source: xApplezz
The arc never really came to fruition as Marvel heroes interrupted the spy wars. From that point onwards it was all about the struggle with the zero point and the impending doom of the island at the hands of 'Galatucs'. Now that that story has concluded, the game can finally shift its attention towards Midas and his secret organization.
How will his return on the island change Fortnite? That is still largely unknown, as Epic Games is posturing to welcome superheroes from DC Comics in Season 6.
ADVERTISEMENT
Article continues below this ad