Fortnite Chapter 2 Season 6: Lazarbeam and Courage Comment on the Current State of the Game
Published 04/12/2021, 12:12 PM EDT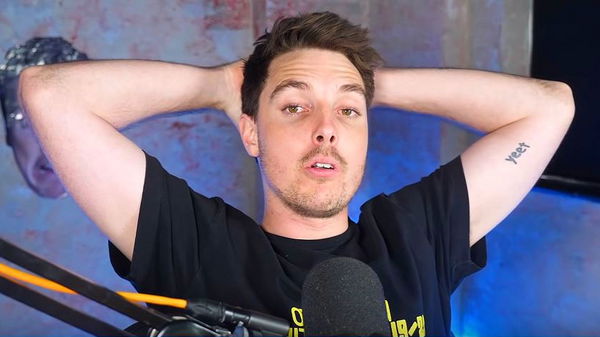 ---
---
Fortnite Chapter 2 Season 6 released on March 16. The new chapter introduced many new elements such as hunting and crafting. While these elements fit with the game's new 'Primal' theme, they have been subject to great criticism.
ADVERTISEMENT
Article continues below this ad
In the latest season of the Battle Royale, the original weapons have been replaced by their makeshift variants. These makeshift variants can further be upgraded to primal and mechanical versions based on the crafting materials that you have gathered. On one hand, primal weapons provide a greater fire rate but lesser accuracy, whereas mechanical weapons have greater accuracy with a low fire rate.
Recently, Australian YouTuber Lannan Eacott, better known by his alias Lazarbeam, expressed his views on the new crafting mechanic. He took to Twitter, saying that the mechanic has 'ruined' the game. Perhaps this is because choosing between Primal and Mechanical weapons entails sacrificing either accuracy or fire rate while in previous seasons we enjoyed a balanced mix of both.
ADVERTISEMENT
Article continues below this ad
Esports commentator and streamer Jack 'CouRage' Dunlop also agreed with Lannan. He explained how the addition of elements like crafting, hunting, and talking to NPCs only serves to slow down the pace of the game. This is because now players will be more engaged in farming and collecting or crafting the best loot rather than fighting other players.
This is quite counter productive if your aim is to get better at the game. The best way to improve at Fortnite is by constantly engaging in as many fights as possible. This way you will learn from your mistakes and make subsequent adjustments.
I'm not a fan. It stinks. I get what they're trying to do.

Unfortunately, Fortnite was already lacking action for me. Now, they added crafting, more farming, and talking to NPCs to get good guns. I feel like a CRAZY Fortnite game now is 10 kills.

— Jack "CouRage" Dunlop (@CouRageJD) April 12, 2021
Is Fortnite becoming less action-packed?
ADVERTISEMENT
Article continues below this ad
Other creators like Nate Hill, SypherPK, and Nickmercs also exposed problems with the new season of Fortnite. While they were in a game of trios, they identified three major shortcomings. These include the lack of mobility items, overpowered crafting weapons, and the 'broken' mythic primal shotgun.
Since then, Epic has tried to make their game more balanced. Their first change has been to nerf the damage dealt by each variety of the primal shotgun. For instance, the mythic variety used to do 69 damage but now only does 57.
Do you agree with Lazarbeam and Courage that crafting has 'ruined' the game? Or do you enjoy the element of collecting materials and using them to upgrade your weapons? Let us know in the comments down below.
ADVERTISEMENT
Article continues below this ad