What Is the Pro 100 in Fortnite and How To Get the Map Code?
Published 06/25/2021, 9:14 AM EDT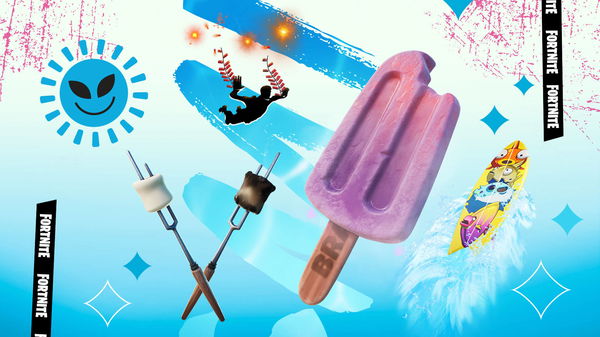 ---
---
Fortnite recently announced its Cosmic Summer event via a blog post. It seems that the war against the alien invaders has come to a halt so that players can enjoy the summer. As a result, Epic Games has introduced new Cosmic Quests into the game which players can complete to earn exclusive cosmetic rewards.
ADVERTISEMENT
Article continues below this ad
In order to complete all these challenges, players must compete across four different LTMs. These include Bios Zone Wars Trio 1.0 – Custom Teams, Pro 100, Freaky Flights – Air Royale, and The Pit – FFA.
"In these particular LTMs (or simply the Islands themselves), you can complete Quests to unlock rewards fit for ANY beach party."
ADVERTISEMENT
Article continues below this ad
The code for the Pro 100 creative LTM is 3424-1388-0947. It just went live, which means that you can begin your challenge grind. While the previous LTMs may have put your skills to the test, this LTM is far less complicated. Players must eliminate enemies from the opposing team.
Watch this story: Fortnite Tryhard Pickaxes
How to complete Pro 100 Challenges in Fortnite
For the first challenge, players are required to spend coins to purchase ten items in the Fortnite Pro 100 playlist. You will earn 50 coins each time you eliminate an opponent. The cheapest weapon you can buy is an Epic sniper for 150 coins. Thus, you would have to earn a total of 1500 coins in this playlist in order to complete this challenge.
ADVERTISEMENT
Article continues below this ad
The second challenge requires you to deal 1000 damage using an RPG. An RPG in this game mode costs 360 coins from the vending machine. However, you will not have to worry about the cost of this weapon too much as it is extremely hard-hitting, so the challenge will be done in no time.
Challenge three is considered the hardest of the bunch. Here, players will have to revive a downed teammate which is very difficult to do in this game mode as players usually finish their kills. Thus, we recommend going into this game mode with a friend. Your friend can knock himself down with an RPG and you can complete the revive objective.
Fortnite's Cosmic Summer will also bring a host of returning skins and bundles into the game. How many cosmic quests have you completed so far? Let us know in the comments down below.
ADVERTISEMENT
Article continues below this ad