Fortnite Chapter 2 Season 8: The Most Broken Glitches You Have to Experience Once
Published 09/22/2021, 3:50 PM EDT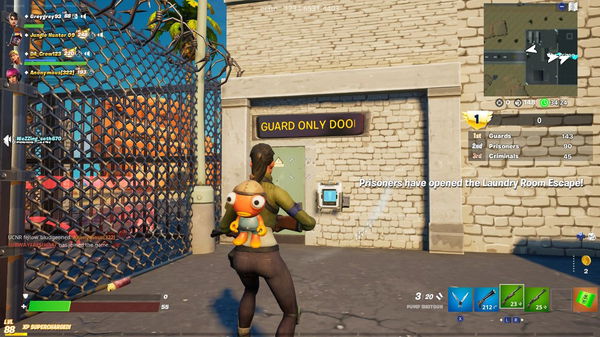 ---
---
Every new season of Fortnite brings exciting new features and the hype that thrills the gamers. Along with several new features and new elements, Season 8 also has its fair share of glitches. These game-breaking glitches are hilarious but can be frustrating at times as well.
ADVERTISEMENT
Article continues below this ad
Here are some of the most hilarious glitches that players should definitely experience at least once in Season 8.
ADVERTISEMENT
Article continues below this ad
Fortnite Horror Mode
The Domes of Darkness were introduced this season, and these domes spawn at random spots on the map. Entering this dome restricts the players' visions and doesn't allow them to build structures in the surrounding areas. If a dome spawns at Dirty Docks, the wall adjacent to the dome will trigger a glitch that will give a decaying effect to the entire island. This means that players will have restricted vision throughout the map and won't be able to build anything.
Spinning Chicken
If a player grabs a chicken and consumes a shadow stone from the crash site, the chicken hilariously spins around and then stops. While this might not be a game-breaking glitch, this is indeed funny to see.
Hole in the Fortnite Island
There is a literal hole in the in-game island past the snow top Campsite! This hole allows players to enter a zone that is technically beyond the bounds of the map and swim in that area. However, building and shooting are restricted and Epic has created a death barrier within the hole as well. This glitch can be noticed when playing Battle Labs.
WATCH THIS STORY – The Worst to Buy Properties In GTA 5 Online
Crushed by a cube
This season is dubbed 'Cubed' and there are glitches involving cubes as well. What anyone might expect when smashed by a cube is to lose HP and eventually die a crushing death. However, getting crushed by the golden cube will actually push players underground and they remain there until they are reduced to atoms. YouTuber  Glitch King even proved that winning Victory Royales can be easy using this glitch.
ADVERTISEMENT
Article continues below this ad
Drive through water
This is a persisting glitch from last season. Fortnite has weirdly allowed players to drive under bodies of water without it affecting their health! That technically means players inside the car will be able to breathe underwater. Furthermore, bullet damage is visibly low underwater and staying underwater acts as a cover from enemies.
ADVERTISEMENT
Article continues below this ad
These are some of the funniest and weirdest glitches in Fortnite this season. Let us know in the comments below which one would you like to use this season.
Trending Stories