Fortnite Chapter 2 Season 8: The Most Tryhard Skin Combos in the Game
Published 09/29/2021, 10:03 AM EDT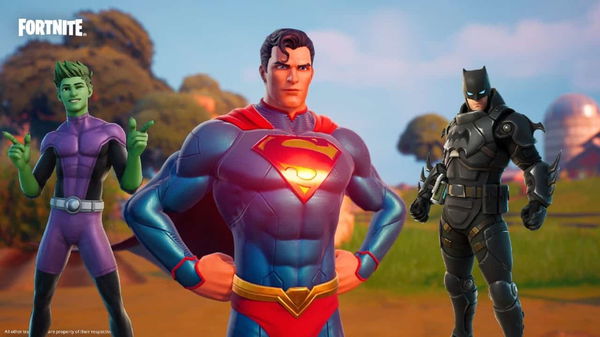 ---
---
It's been a month since Fortnite Season 8 began and Epic has even pushed the first major update for the season. The Fortnite 18.10 update brings a ton of new content changes, skins, NPCs, and more.
ADVERTISEMENT
Article continues below this ad
Just like any other season in Fortnite, Season 8 has multiple new skins, back blings, and pickaxes for players to obtain. Fortnite has loads of tryhard skins for players to choose from and equip as well. Here are the top 10 tryhard skin combos in Fortnite Season 8.
Top 10 tryhard skin combos in Fortnite Season 8
ADVERTISEMENT
Article continues below this ad
1. Unchained Ramirez + Gold Token + Crowbar 
This season, Epic collaborated with the luxury fashion brand Balenciaga to bring a variety of cosmetics to the game. Apart from the virtual skins, players can even buy original Fortnite-inspired clothing from Balenciaga outlets. The Unchained Ramirez is one of the Epic skins from the Balenciaga Fit Set. The outfit can be combined with Gold Token Legendary back bling and the Crowbar pickaxe.
2. Britestrom Bomber + Banner Cape + Dark Axe
The Britestrom Bomber skin is not new to Fortnite Season 8. It was first added in Fortnite Chapter 2 Season 5 and is added to the item shop quite often. The Britestrom Bomber skin, when combined with the Banner Cape and Dark Axe pickaxe, makes for a great tryhard combo and might be worth your V-Bucks.
3. Aspen + Autumn's Mantle + Combat Knife
The Aspen skin is a fairly recent skin in Fortnite and is part of the Autumn Attack Set. When paired with Autumn's mantle back bling and combat knife, pickaxe makes for an attractive tryhard skin combo. Even Fortnite pros like Bugha use the Aspen skin during their matches.
4. Fashion Banshee + Ice Breaker Pickaxe
Fashion Banshee is another skin from the Balenciaga set. It is a cool and unique-looking skin which the community admires. Players can make the whole attire even more attractive by pairing it with the Ice Breaker Pickaxe.
5. Mogul Master + Combat Knife
Mogul Master is a colorful skin and has been the community's tryhard skin for a while now. With Fortnite Season 8, players can equip a combat knife with Mogul Master to make it look subtle yet fabulous.
6. Charlotte + The Fret Basher Pickaxe
Charlotte is a new NPC in Fortnite Season 8 and also the first battle pass reward for players to unlock. The NPC can be combined with the Fret Basher Pickaxe.
7. Toona Fish skin + Throwback axe
Another skin new to season 8 is the Toona Fish skin. The skin looks cartoony yet neat. The skin is a great addition to the game and players can pair it with a Throwback axe pickaxe.
8. D'ark + Sun Sprout Backbling + Lucky Pickaxe
The D'ark skin can be obtained by purchasing the Fallen Light set. She was first added to the game last season and players have enjoyed the skin. It can be used with the Sun Sprout back bling and Lucky Pickaxe to make it a decent tryhard skin combo.
9. Color Crush + Driver Pickaxe
ADVERTISEMENT
Article continues below this ad
The Color Crush skin is highly customizable, which makes it great as different players can tweak it as per their desires. Many popular streamers use this skin in the lobby and it can be paired with a Driver Pickaxe.
10. Lara Croft + Rainbow Clover + Leviathan Axe
Last but not least, players can use the Lara Croft skin with the Rainbow Clover back bling and the Leviathan Axe pickaxe. Lara Croft is very well designed, making it an amazing skin to use in the game. The Lara Croft skin was a Battle Pass skin in Chapter 2 Season 6 but its popularity has not died yet.
ADVERTISEMENT
Article continues below this ad
Which one of these tryhard skin combos in Fortnite Season 8 do you like? Let us know in the comments.
Watch this story – Call of Duty: Warzone vs Fortnite which is the better Battle Royale game
Trending Stories