Fortnite Crew Skin For April Features a New Feline Fashonista
Published 03/24/2021, 3:26 PM EDT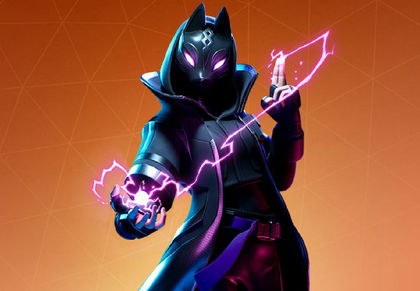 ---
---
The Fortnite Crew skin for the month of April has been announced. Although it is a new character, she has ties to a previous Fortnite skin. The new skin coming to Fortnite is 'Alli'.
ADVERTISEMENT
Article continues below this ad
Alli is the cousin of Fortnite Chapter 1 Season 7 tier 1 battle pass skin Lynx. Unlike her hacker cousin, Alli is a runway model. However, they both have feline features.
Lynx was one of the most beloved skins when she was first released. With every stage of Lynx's challenges that you completed, her suit would receive a new cosmetic upgrade. The final upgrade made her resemble a feline Ironman.
ADVERTISEMENT
Article continues below this ad
It appears that Epic has taken the complete opposite approach to Alli. What's unique about her character model is her long hair, which flows down to her knees. Thus it will be interesting to see how this model plays in-game.
Here's what you get with the Fortnite April Crew pack
In their blog post, Epic announced, "Striding into Fortnite Crew is the felinely fashionable Alli, the star of April 2021's Crew Pack. At approximately 8 PM ET on March 31, active Fortnite Crew members will receive this upcoming Crew Pack, which includes the Alli Outfit, the Squee Back Bling (a warning for ornery mice), the picked clean Skellyfish Pickaxe, the paw-plentiful Cat's Paw Wrap, and the Catwalk Loading Screen."
ADVERTISEMENT
Article continues below this ad
If you didn't know already, you can purchase a Fortnite Crew subscription for the price of $12. With this subscription, you will get 1000 V-bucks every month and the season's Battle Pass, along with the monthly crew skin.
This will be the fourth crew pack coming to the game. Previously, the community saw the Galaxia, DC's Green Arrow, February's Vi skin-set, and the 'LLegend' LLambro. "Even though April's Crew Pack is coming up, players also interested in the March Crew Pack don't need to worry. Players who subscribe to Fortnite Crew before March 31 at 8 PM ET (when active members begin to receive April's Crew Pack) will automatically receive the March Crew Pack + the Blister Pack Back Bling bonus."
What do you think about the newest addition to Fortnite's feline family? Have or will you purchase a Fortnite crew subscription for the month of April? Let us know in the comments down below.
ADVERTISEMENT
Article continues below this ad