Fortnite: How to Complete the Wrath Challenges in Season 8
Published 09/23/2021, 10:36 AM EDT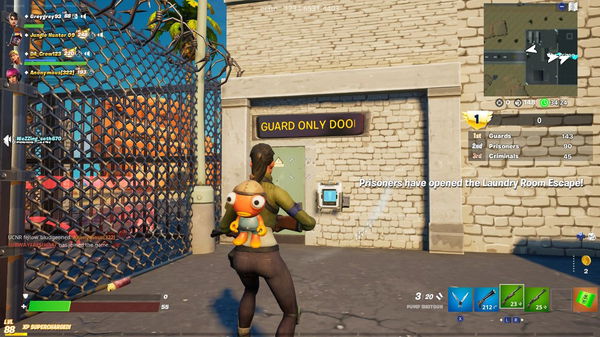 ---
---
Many veteran Fortnite users may remember Wrath as a skin that was introduced in Chapter Two Season One of the game. The skin was available for 1600 V-bucks at that time. In Chapter Two Season 8, Fortnite allows players to meet the character as one of the 16 NPCs. Each NPC carries a number of questlines that players are ought to complete.
ADVERTISEMENT
Article continues below this ad
This season has a number of Wrath Challenges as part of questlines. This article will discuss more on how to complete these challenges in Season 8. The quest is worth an award of 80K XP.
ADVERTISEMENT
Article continues below this ad
Where to Find Wrath in Fortnite Season 8
Wrath can be found South East of Pleasant Parks, in Stealthy Stronghold. Players can now interact with Wrath as it has been added as an NPC. The NPC will allot tasks to the players that they may complete.
Spot enemies using recon scanner
The recon scanners are available in the IO chests in any of the IO bases across the map. Completing this challenge will grant players 12k XP.
Using a jump pad or jump vent to travel 100m before landing
Players can go to any of the Alien Crash sites to find jump pads and jump vents. This challenge awards 14k XP.
Get a storm forecast from a Fortnite NPC character
Players need to meet Pitstop and purchase Storm Forecasts for 170 gold bars. Go to Boney Burbs to find the NPC lurking around that area. This challenge awards 16k XP.
WATCH THIS STORY – The Worst to Buy Properties In GTA 5 Online
ADVERTISEMENT
Article continues below this ad
Get a bounty from the bounty board
Players can find several bounty boards across Boney Burbs and several other locations around the map. Go towards the board and accept the bounty. This challenge awards 18k XP.
Completing a bounty
ADVERTISEMENT
Article continues below this ad
The final challenge in the questline, completing a bounty grants players with 20k XP. This completes the series of Wrath challenges for Escaped Tenant Questline and grants players a total of 80k XP.
Trending Stories