Fortnite: How To Set Fire To Structures
Published 04/09/2021, 12:34 PM EDT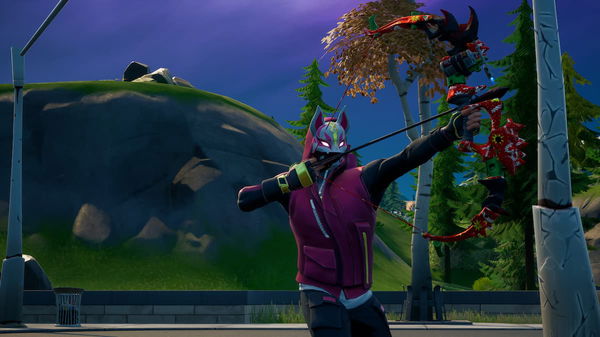 ---
---
The new season of Fortnite has kicked off and there are a lot of changes and challenges to complete. If you are looking for a quick way to complete one of the weekly challenges, this guide will surely help you.
ADVERTISEMENT
Article continues below this ad
Fortnite Chapter 2 Season 6 brings in a primal theme. Now, players have interesting elements to try out, such as crafting and exploring the wildlife. The wildlife can be used to aid players to a win. Further, hunting them will open up newer ways to upgrade or craft weapons, increase health among other benefits.
Epic Games has also added some iconic characters to the game such as Lara Croft, DC's Raven and footballer Neymar Jr.
ADVERTISEMENT
Article continues below this ad
How to set things on fire on Fortnite?
Players have been intrigued by the idea of setting fire in the game. There are multiple uses for fire in the game and now, we'll take a look at two of the easiest ways to set fire.
The best way would be to grab some firefly jars. Players can find fireflies around wooded areas or near campfires all over the new map. Once you make your way to one such area, look out for glowing firefly bugs.
ADVERTISEMENT
Article continues below this ad
Proceed to interact with them, and once you collect enough, you'll have the required firefly jar. Then, simply throw them at any building, player made walls or objects and that would set them on fire.
An alternate option is to find a primal bow. You'll still need a firefly jar or gas canister to do the trick. Afterwards, open your inventory and go into crafting to make a primal flame bow. This can be used to shoot and set anything on fire.
Although there are other ways to create fire such as setting off a gas canister or blowing up gas stations, these may not count for the challenges. It is better to execute one of the aforementioned ideas to complete the challenge. Hopefully, this guide will help you complete the challenge.
ADVERTISEMENT
Article continues below this ad
What are you most excited for in this season of Epic Games' Fortnite? Let us know down in the comments.