Fortnite Set to Debut Skins Made by Creative Royale Winners Later Today
Published 12/22/2021, 2:46 PM EST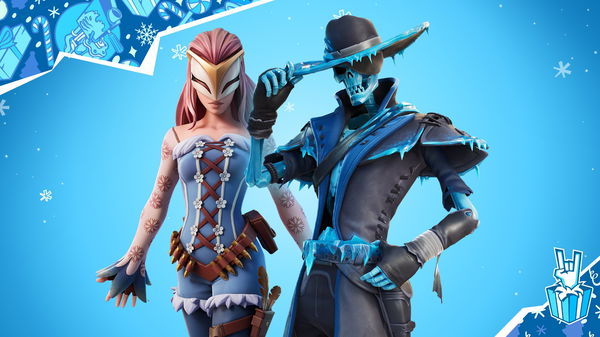 ---
---
Finally, after waiting for nearly 6 months, Epic Games has finally announced the winners of Concept Royale. Back in June, the studio hosted a competition for concept art creators of the Fortnite community. Creators had to design original cosmetics centered around the festive theme of the Christmas and the winter season.
ADVERTISEMENT
Article continues below this ad
Ladiale, or lbdart, and Alta, or AltaCalls, won the competition and their beautiful designs will be added to the shop on December 23. Their beautiful design of Nalia and Frigid Foregoer captured the community and the developer's imagination. You can take a look at the winning cosmetics below and decide whether or not you wish to pick them up.
ADVERTISEMENT
Article continues below this ad
Epic Games conducted a small interview with the winners of Fortnite Concept Royale
The gaming studio shared an elaborate blog post highlighting everything that led to the creation of these beautiful designs. Ladiale stated that her design of Nalia is heavily inspired by owls, and she wanted it to base his character around it.
Meanwhile, Alta focused on recreating a frozen character based on the theme of the winter season. He drew inspiration from various skeleton skins that have already been added to the game, and just added his touch to it.
Watch this story: The Best Spiderman Games of All Time
ADVERTISEMENT
Article continues below this ad
Video Source: GameSpot
Both the winners have stated that it is quite surreal to be declared the winner of this competition. It is indeed a dream come true moment for both of them, and they are very grateful to the studio, Epic Games.
ADVERTISEMENT
Article continues below this ad
Ladiale doesn't work as a professional concept artist but has been making designs since 2016. On the flip side, Alta works as a professional concept artist. He turned pro in 2017 and has been working in the industry ever since. He also stated that since the summer of 2020, he has been making attempts to create concept art for the game.
What do you think about the winners of 2021's Concept Royale? Will you pick up the new cosmetics from the shop? Share your thoughts in the comments section below.