Fortnite YouTuber Helps 8-Year-Old Son Jump On the Doctor Strange Bandwagon
Published 03/24/2022, 1:15 PM EDT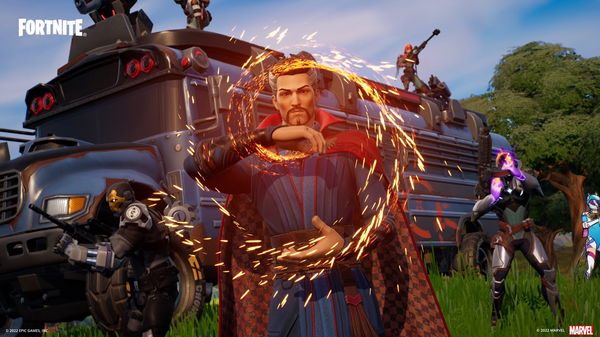 The most common reaction of parents, when asked about gaming, would be to maintain a level of concern for their children's activities. For example, when talking about Fortnite, most parents react in a rather apprehensive tone and refrain their children from engaging much in gaming activities.
ADVERTISEMENT
Article continues below this ad
However, we have an anomaly from this phenomenon here. Here is a parent who has bought their child 13,500 Fortnite V-Bucks to unlock Tier 100 BattlePass items. This is indeed a very wholesome gesture extended to their ward by the parent.
ADVERTISEMENT
Article continues below this ad
 YouTuber gifts his child a fortune worth of Fortnite items
As you can see in the above video, the YouTuber TRUMAnn extends a rather wholesome gesture towards his son by gifting him a fortune worth of Fortnite items. The YouTuber asked his son to complete a simple challenge in order to get this unique gift. The son just had to spell Doctor Strange correctly, which the eight-year-old was easily able to ace through.
READ MORE – Who Is Fortnite Voice Actor Troy Baker?
While Battle Passes are not really a necessity for free-to-play Fortnite, it is often recommended for people who want to experience the best out of their battle royale experience. The Battle Pass unlocks a plethora of exclusive items that can be only unlocked by paying for it. Ideally, a battle pass tier costs around $7.99, but it is bought via the in-game currency called V-Bucks. Speaking of which, the YouTuber must have spent around $107,000 just to get his son all the items in this season's tier list!
ADVERTISEMENT
Article continues below this ad
Chapter 3 Season 2 brings alongside it some of the most asked for items. The Battle Pass is mostly based on the Doctor Strange theme, a recent skin that dropped into Fortnite just a few days back. The 100th tier of the Battle Pass unlocks Doctor Strange: 9 Battle Stars outfit. Have a complete look at all the available items in this video below.
The Doctor Strange outfit is probably one of the most asked-for skins in the game. This is paving the way for Fortnite to create its own Marvel universe, with the plethora of skins that are being added regularly!
ADVERTISEMENT
Article continues below this ad
WATCH THIS STORY –  Toughest Video Game Bosses of all time
What do you think of this wholesome gesture by a father to his son? Let us know in the comments.