Fuslie Credits Valkyrae as the Major Reason Behind Her Joining 100 Thieves
Published 05/13/2021, 11:39 AM EDT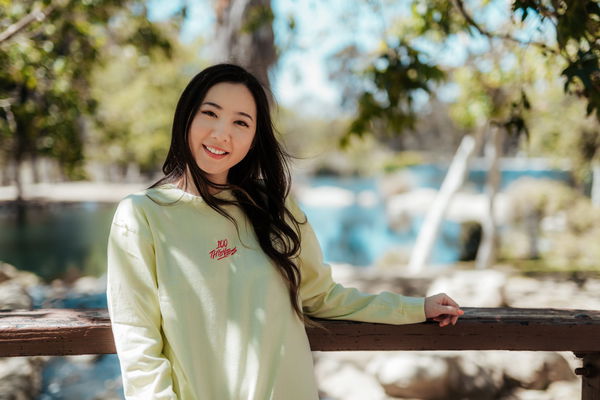 ---
---
Leslie Fu, better known as Fuslie, has finally joined 100Thieves, as the organization confirmed the acquisition. She is a 28-year-old streamer, who hails from Los Angeles, United States. Leslie took up streaming because of her roommate's advice back in 2015, and has not given it up ever since.
ADVERTISEMENT
Article continues below this ad
She has been grinding on Twitch for years, before rising to fame in 2020. The year of the pandemic may have brought the world to a stop, but it gave rise to new superstars in the streaming world.
ADVERTISEMENT
Article continues below this ad
Welcome @Fuslie to 100 Thieves!

Leslie started streaming back in 2015 and is now one of the biggest female creators on Twitch. She's one of the most genuine and charismatic people in the scene. We're beyond excited to have her and to be building this community with her! #100T pic.twitter.com/YK5qWfCX5z

— 100 Thieves (@100Thieves) May 12, 2021
Fuslie stated Valkyrae as a big reason behind her move
The American streamer has finally become a part of the top-rated NA organization, 100 Thieves. Leslie has indeed come a long way from hosting League of Legends streams to now joining a prominent organization. The famous streamer found a second wind, last year when Among Us broke out, and she joined Valkyrae's crazy Among Us lobbies.
It catapulted her career to new heights of success, and she became a household name. The famous streamer recently shed light on what compelled her to join 100 Thieves. She spoke about her latest move on stream and also suggested that Valkyrae was the key reason. The two streamers share a very intimate bond and are really close friends.
" I mean, Rae was a big selling point for me. I've seen her a lot, the past week and a half. Lot of shoots together, lot of stuff, but yeah, seeing Rae, yeah, and just like knowing Rae is like the co-owner makes it all like obviously, a big reason, why I joined."
The streamer also suggested that she had other options, but 100 Thieves was a no-brainer for her. She suggested that Rae becoming a part of 100thieves motivated her to achieve similar success. However, she did not believe that it would happen, which led her to join other organizations in the past.
Video source: ClassiFired
ADVERTISEMENT
Article continues below this ad
Naturally, Valkyrae also offered her reaction following the big announcement. She shared a wholesome tweet after 100 Thieves made the official announcement.
The way I had to lie to make sure I didn't leak @fuslie joining 100THIEVES lol😅 WELCOME TO THE FAM LESLIE I LOVE YOU I COULDN'T BE MORE PROUD AND HAPPY FOR YOU!!!! ♥️♥️♥️♥️♥️♥️♥️♥️♥️♥️♥️♥️ https://t.co/FFpYIYEQsJ

— rae ☀️ (@Valkyrae) May 12, 2021
ADVERTISEMENT
Article continues below this ad
Earlier in the year, Valkyrae revealed that the org is looking to hire female streamers. 100Thieves has acquired TenZ's girlfriend and famous streamer, Kaydee Shymko, as well as Fuslie. It seems like there is still room for more, as the organization continues to expand its roster of female content creators.
Trending Stories