"Get Wrecked You…" – KSI Continues Trolling Jake Paul Over His First Boxing Defeat to Tommy Fury
Published 03/08/2023, 1:10 PM EST

Follow Us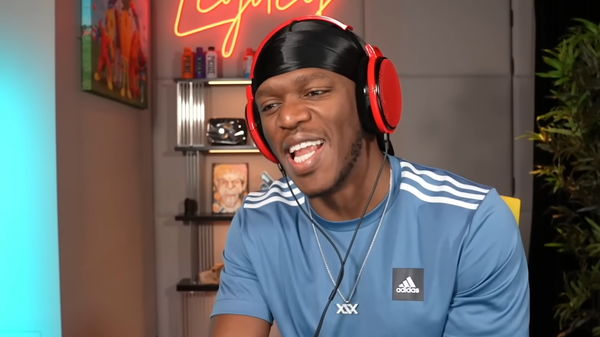 A few weeks ago, the whole world witnessed Tommy Fury put a full stop to Jake Paul's winning streak inside boxing. While Paul's fans are upset, some people are on cloud nine after seeing the YouTuber-turned-boxer lose his latest match. And one of them is none other than KSI.
KSI and Jake Paul are arch-nemesis, despite the former being the business partner with the latter's brother Logan Paul. These two YouTubers-turned-boxers are yet to face each other inside the boxing ring, but they never leave an opportunity to pull each other's legs on the internet. Like KSI can't stop trolling and taking digs at Jake Paul since his latest defeat.
KSI once again takes a dig at Jake Paul
ADVERTISEMENT
Article continues below this ad
JJ Olatunji couldn't have asked for a better opportunity than Jake Paul losing his big fight against Tommy Fury. KSI has already trolled his arch-nemesis multiple times, releasing videos where he called him 'trash' or blamed his defeat on not drinking his PRIME Hydration drink. Even though it's been a few weeks since Jake's defeat, the 29-year-old is still not over it.
Sidemen, the English YouTube group KSI is part of, released a small video on their Twitter. In that clip, the 29-year-old rolled a Jake Paul photo and was "smoking" it. A fellow Sidemen asked him what was he doing. To which he answered, "A week has gone and I'm still smoking on that Jake Paul pack baby! Him losing has made my year baby! Get Wrecked You Pu**y!"
Moreover, KSI also went on to Kai Cenat's subathon to troll Jake and boast about his feats in boxing. Many might have forgotten that KSI has also been "The Nightmare" inside a ring. He hasn't lost a single match till now, and the worst result in his career so far was the draw against Logan Paul. Olatunji's latest victory was against FaZe Clan co-owner Thomas 'Temperrr' Oliveira.
How did Twitter react to the video?
The majority of Twitter users found this tweet childish and tried reminding KSI that he would turn 30 this year. Some of the users also claimed that JJ is obsessed with Jake Paul now. Meanwhile, KSI fans mentioned they want to see him fight Jake and taste his second defeat this year.
I know KSI's a successful person but this is childish.

— Aryan (@_Aryan26_) March 7, 2023
Whys he so obsessed with jake 😭😂

— Elija Gardner (@ElijaGardner) March 8, 2023
Never thought a 30 year old man can be like this. Still never change JJ even in your fifties😂 or else youtube will get boring. @KSI

— Bobby (@Bobby16081608) March 8, 2023
yeah this guy cant lose now man or its over 💀

— Born_Blue (@joshola123544) March 7, 2023
ADVERTISEMENT
Article continues below this ad
But I was wishing ksi wld be the person who wld give him a loss! 🙁
He is gonna give loss to jake paul anyways, but 1st one wld be amaing !

— Sandeep Gedala (@SandeepGedalaSR) March 8, 2023
ADVERTISEMENT
Article continues below this ad
What do you think about KSI's dig at Jake Paul? Let us know in the comments below.
WATCH THIS STORY: Everything You Need to Know About Logan Paul's Latest Business Venture With KSI