Ghost Recon: Frontline- Ubisoft's Description of this game NOT Being a Battle Royale is Baffling yet Justified
Published 10/06/2021, 12:03 PM EDT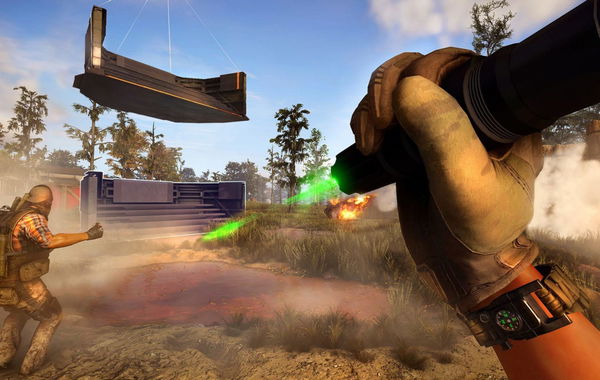 ---
---
Ghost Recon Frontline is generating a lot of buzz and is looking to take the Battle Royale genre by storm. The game shares similar traits with a modern-day Battle Royale game, but it's not a Battle Royale game. And that's what exactly Ubisoft Bucharest is saying.
ADVERTISEMENT
Article continues below this ad
This makes the upcoming Ghost Recon Frontline look like a mixed bag. Tom Clancy's Ghost Recon franchise has eternally been about hard-core campaign modes and this new inclination looks like a big gamble.
Ghost Recon Frontline might change Battle Royale as we know it
ADVERTISEMENT
Article continues below this ad
Ubisoft Bucharest will be developing the upcoming Ghost Recon game. This is the studio behind Tom Clancy's HAWX games and even partnered on other Tom Clancy titles. 
Stefan Marinescu, brand director for Ubisoft, sat down with Gamesradar to talk more about what can be expected from the new game. He said "It's very important to understand how we are different. Battle royale is a genre. It's not like we're very far away from it, but we are different in many ways. We are free to play, indeed, but we are a tactical, action, massive PvP shooter, that's what we want to call it. It's our own, very personal take on this massive PvP shooting scene that's done in the Ghost Recon universe."
ADVERTISEMENT
Article continues below this ad
And this is where Ghost Recon Frontline differs from other Battle Royale titles. Ubisoft also revealed a game mode called Expedition, that will feature 102 players in a lobby in teams of three. The key differentiator here is that here players will need to work to accomplish objectives, collect intel and defend it from other teams. You will then need to escape from the map. 
ADVERTISEMENT
Article continues below this ad
The game will even have a variety of player classes, called contractors. Ghost Recon Frontline is going into testing next week in select regions, so you might have a chance to try the game out for yourself. What do you think about the latest game? Let us know in the comments.
WATCH THIS STORY- Best Role-Playing Games Releasing on PlayStation, Xbox, and PC in September 2021
Trending Stories