'Goodbye King' – Fortnite Fans Bid Adieu to Benjyfishy
Published 06/25/2022, 9:10 AM EDT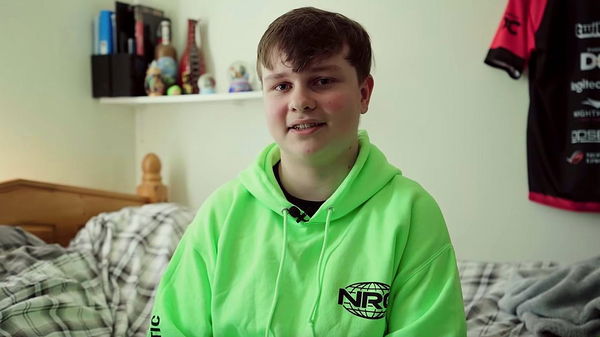 David Fish, popularly known as BenjyFishy in showbiz, announced his retirement from competitive Fortnite. The announcement came in via Twitter post as Benjy uploaded a video addressing his fans about a life update. He declared his retirement from competitive Fortnite as he wanted to continue his career in Valorant.
ADVERTISEMENT
Article continues below this ad
Fans had a mixed reaction to this decision, as Benjy was one of the most prominent players in the Fortnite world. So, the sudden announcement from the English player came as a shock to many. 
ADVERTISEMENT
Article continues below this ad
Fans support BenjyFishy as he unveils a new chapter with NRG Gaming! 
For the past few days, fans saw Benjy grinding the Riot Games title, Valorant. As a result, it gave rise to rumors claiming that Benjy was about to leave Fortnite once and for all. There was no official statement from the Fortnite star regarding this issue until June 24. Post that, David uploaded a video on his YouTube channel. With that, David addressed his fans, announcing an official retirement from competitive Fortnite and moving towards Valorant.
WATCH THIS STORY: Top Female Fortnite Streamers In The World
Apart from the announcement, Fish mentioned nothing about his relationship with NRG, proving that he will continue with them. After all, he has been one of the major contributors, helping his clan win high stake tournaments.
BenjyFishy has always inspired budding Fortnite players with his exceptional gaming skills. Partnering up with his best friend, Mongraal, the duo has gifted us some of the best gameplays in the world. So, to honor his next chapter, the entire Fortnite community alongside his mother extended their support in his favor. Here's what they had to say.
Another sad day in the Fortnite community as @benjyfishy officially quits 😔

– $500,469 in online earnings
– 25th World Cup Solos
– 14th World Cup Duos
– Over 25 tournaments won

Good luck in your future playing Valorant Benjy 🍀 pic.twitter.com/qfMBOC8lJM

— EU Comp Report (@EUFNcompReport) June 24, 2022
Thank you for everything. ❤️

— Fortnite Competitive (@FNCompetitive) June 24, 2022
Thank you so much for everything, sad to see you leaving fortnite but happy for everything we accomplished together. I know youre gonna do good in valorant. Love you bro always❤️

— MrSavage (@MrSavage) June 24, 2022
♥️ Today's the Day….even though I knew it was happening I am still very emotional and tearful. You are so talented, you are going to be insane at Val as well ♥️

— GXR Anne Fish (@mamabenjyfishy) June 24, 2022
Good luck bruv. Top G since day 1.

— FaZe Mongraal (@Mongraal) June 24, 2022
David extends his love to people who supported him on his journey
Apart from the video shared by Benjy, he individually thanked the people who have been a part of his beautiful journey. Out of all, two notes stood out as they addressed some important people.
While thanking his MrSavage, BenjyFishy said, "Literally made my career and without him, I'd be nowhere close to where I am at right now, the best player I have ever played with… Goofy – my old duo, he bought me a PC from his earnings he won from a skirmish, one of the nicest people I've ever met, was one of the first people to ever see potential in me…"
ADVERTISEMENT
Article continues below this ad
He then thanked a few others who he met during his time in Fortnite. Here's what he said. "Rockit – Been a close friend since the start and has been editing my YouTube videos since my first literal video, would be nowhere near as big without him and what he's done for me… And thank you to everyone whos been watching me and supporting me…"
Now, it will be fun to see David cruising through the Valorant lobbies, as fans are looking forward to his new chapter in life.
ADVERTISEMENT
Article continues below this ad
What are your thoughts about BenjyFishy's move from Fortnite to Valorant and his retirement decision? Do you support Benjy's decision? Let us know in the comments section.