How Does Pathfinder Fare Against Other Characters in Apex Legends Season 8 Update?
Published 02/21/2021, 10:37 AM EST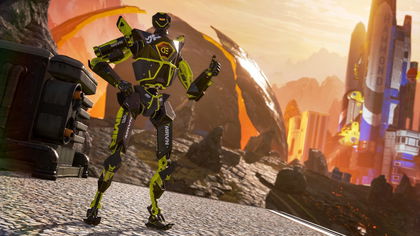 ---
---
The ongoing patch 8.0 has brought many changes to the map, weapons, and characters in Apex Legends. Octane was at the receiving end of some much-needed rework to his ultimate, while Wraith saw her hitbox enhanced.
ADVERTISEMENT
Article continues below this ad
Developers introduced this update to improve the game balance and to also bring Octane back in meta. He has once again acquired the status of being the fastest character because of his improved ultimate ability.
With those things addressed, the developers barely laid a finger on Pathfinder. The recon class rework stripped Pathfinder's unique passive skill and turned it universal for the entire class. Ever since the community has been asking the gaming studio to come up with new rework that can adequately strengthen everyone's favorite robot.
ADVERTISEMENT
Article continues below this ad
Mobility legends like Octane and Wraith got tweak, but Pathfinder remained the same. So the looming question is, is Pathfinder still a viable choice in Season 8?
Pathfinder against the roster of high mobility characters in Apex Legends
The changes to Octane have indeed turned him into one of the most favorable characters. He can keep up with other high mobility-based legends as shown in the gameplay video below. The upgraded jump pads allow him to traverse the terrain handily, while the character can now easily scale vertical buildings. This directly plays into Pathfinder's playstyle.
The difference between Pathfinder and other swift characters remains still unchanged. He is still one of the fastest characters who can cover ground at a high-speed. The grappling hooks and ziplines give him unmatched freedom that is largely missing with other characters. Developers had added a buff to his grappling hook in an older patch, and it is still holding its own ground.
ADVERTISEMENT
Article continues below this ad
Video source: The Gaming Merchant
However, Octane has now become the fastest-moving unit in the game. The fresh changes to his kit have enabled him to become a strong character. The meta might favor Octane in the ranked game, but Pathfinder mains can still spam their favorite legend. It would be great if he had a useful unique passive skill, although he is still a strong viable choice despite this particular shortcoming.
ADVERTISEMENT
Article continues below this ad