"Huh??? For Why???.." – Fans Upset Over the Massive Minecraft Cosmetic Update
Published 08/21/2022, 9:50 AM EDT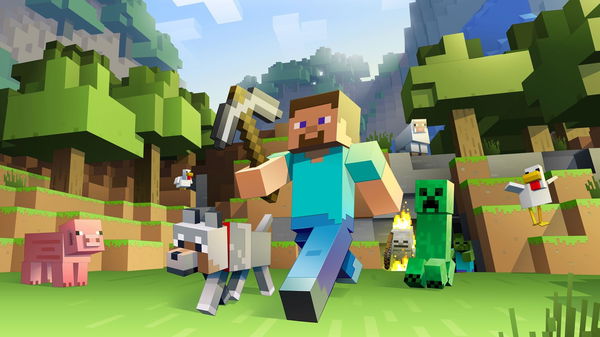 Minecraft is one of the most played video games in different parts of the world. After all, its release shook most of the fans, as they could not believe the sandbox creation. Mojang Studios developed the game in 2011 with the idea of giving an ideal animated experience to fans. They developed the game using Java programming language, something that only a handful of engineers used. However, fans highly appreciated the game's release, giving a green signal to their unique concept. 
ADVERTISEMENT
Article continues below this ad
After getting enough recognition from users, the franchise kept on updating the game to improve the user experience. The devs added skins, cosmetics, and analytical updates to attract more players. While this worked out well for years, the franchise has finally landed in troubled waters. Fans have disliked their recent update, not approving of the massive change brought to their favorite in-game skins. 
ADVERTISEMENT
Article continues below this ad
Mojang Studios baffle the Minecraft community with a massive cosmetic update
On August 20, 2022, a popular Minecraft page updated fans about an in-game cosmetic change. He said that the game's developers brought a change to two of the game skins after 13 years.
Apart from this, Block Facts also uploaded pictures of the cosmetics to show proof. Here's what he said: "Mojang have changed the default Steve and Alex skins for the first time in 13 years! These are from the newest launcher update."
It was just a matter of time before the post started getting traction, as fans could not believe the information. They instantly added comments to express their sadness, asking questions about why the franchise would do it. However, a handful of them approved of it, as they felt they needed a change. So, let's look at how the Minecraft community reacted.
Thank goodness, the old skins looked like garbage

— wiintah (@wiintah) August 20, 2022
Huh??? For why??? To give them lil sleeve cuffs? Not the worst change, but I don't see why they did it… Also, why is there green on Alex's hand?

— BurntBeanies (@BurntBeanies) August 20, 2022
I do not like this, steve skin was my childhood, now its ruined 🙁

— Jaidel (@JaidelDaidel) August 20, 2022
Why do mojang insist on fucking with things that were perfectly fucking fine? Who was complaining about this?

— George (@Bantaley) August 20, 2022
While the majority had differing opinions about the skin update, a few others kept asking about the change in Alex's hand.
Why does Alex have a green line on the bottom of her hand

— Ruby Moonstone ♡ (@mario24367) August 20, 2022
ADVERTISEMENT
Article continues below this ad
With a massive outage in the Minecraft community, it feels like Mojang will have to re-think the cosmetic update. After all, they don't want to lose out on their 3,183,167 players.
ADVERTISEMENT
Article continues below this ad
WATCH THIS STORY: From Call of Duty to Minecraft, ranking the highest-selling video game franchises of all time
What are your thoughts about this? Are you happy about the new character update from Mojang Studios? If not, what characters would you want to see changed in the update? Let us know your answers in the comments section.