"I Can't Even See Him"- Dr Disrespect Makes a Sensational Comeback After Getting Eliminated by a Roze Skin on Warzone
Published 05/04/2021, 9:57 AM EDT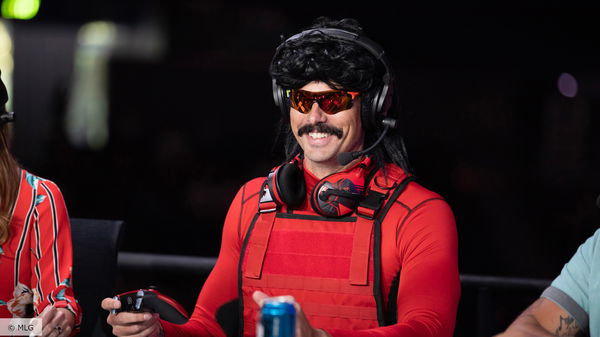 ---
---
It is no secret that Dr Disrespect is a sucker for battle royale games. Although Doc does throw in some non-battle royale games in here and there, it is not what his content primarily revolves around. The 'Two-Time' made the famous transition from PlayerUnknowns Battlegrounds to Apex Legends and now finally to Warzone.
ADVERTISEMENT
Article continues below this ad
In his latest video, Dr Disrespect shares a clip of the trouble he has against a player using the Roze skin. Roze is an Allegiance operator who is available as a bundle purchase from the store. Since its release, it has been considered a 'pay-to-win' skin because it is so dark and non-reflective that it is practically invisible in darker locations on the map.
Members of the Warzone community have been calling for graphic changes to the skin For a moment, they were satisfied, as Raven sought to fix the issue. However, one and a half minutes into Doc's video, it seems like the skin still retains the features that made it 'broken' in the first place.
ADVERTISEMENT
Article continues below this ad
Dr Disrespect makes a comeback after an early elimination
Despite this early setback, the 'Two-Time' is able to respawn himself via the gulag. Along with his teammate ZLaner, Doc is able to get deep into the game, killing any player he comes across.
ADVERTISEMENT
Article continues below this ad
The duo goes on to face even more obstacles as ZLaner is left as the lone survivor of his team with 15 quads left. He manages to gather enough cash resources to buy Dr Disrespect back into the game. While the duo put up a good fight, they eventually succumb to the winning team.
At this point in time, it seems like the 'Two-Time' has lost some of his love for Warzone. While streaming, Doc commented, "I gotta stop playing it. I don't get anything out of it anymore, at all, really. Snipes here and there once in a while. Erm, but if it's not obvious it should be, I have no interest in playing this game." His recent run-in with the Roze skin will only add fuel to that fire.
Do you think that Dr Disrespect will pull the plug on Warzone soon? Let us know in the comments down below.
ADVERTISEMENT
Article continues below this ad