"I Don't Understand What the Rules Are"- Ryan Higa Gives His Take on the Twitch Ban of Disguised Toast
Published 04/26/2021, 11:41 AM EDT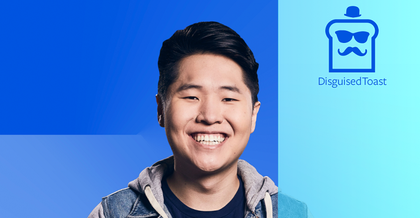 ---
---
Jeremy Wang, better known by his online alias Disguised Toast, is a Taiwanese-Canadian streamer. He regularly streams games like Among Us with Pokimane, CorpseHusband, and others. Recently, the streamer was temporarily banned from Twitch for unmoderated hateful content.
ADVERTISEMENT
Article continues below this ad
While Twitch did not mention the exact clip that warranted the ban, fans of the streamer have a good idea of what could have triggered it. While he was live streaming on Twitch, Toast was watching an old clip from one of his PlayerUnknowns Battlegrounds games. The clip features Toast camping and killing a player, following which the player yelled slurs at the streamer.
According to Twitch policy, streamers are responsible for the content that goes up on their stream. This includes the content that they make, their chatbox, and any clips or videos they view on stream. As a result of his slip-up, Toast will have to spend some time away from the platform.
ADVERTISEMENT
Article continues below this ad
Ryan Higa reacts to the Twitch ban of Disguised Toast
Recently. YouTube legend Ryan Higa reacted to Toast's ban from Twitch. According to Ryan, as long as Toast does not condone the behavior or speech, he should not have to take the fall for it. He gives the example of Valorant lobbies, which can be extremely toxic and abusive and asks whether playing Valorant would get him banned.
Higa explains how Twitch and its guidelines can be very confusing at times, and he even becomes very hesitant to speculate the reason for Toast's ban. Lastly, he touches upon how heart-breaking it is that Toast cannot play with his friends due to his ban.
ADVERTISEMENT
Article continues below this ad
Following the ban of Dr Disrespect, Twitch updated their policy to ensure that a banned user could not be featured on any stream. This was done to stop the Two-Time from participating in Vikkstar's Warzone tournament.
While this ban is a setback for Toast, it is not a major one. The streamer recently signed a deal with Facebook Gaming as his main streaming platform. However, his Twitch subscribers will not be too happy about the ban.
Do you think Toast deserves to be banned from Twitch? Let us know in the comments down below.
ADVERTISEMENT
Article continues below this ad